Toshiba TG5-E01 clears FCC: clamshell TG01 smartphone?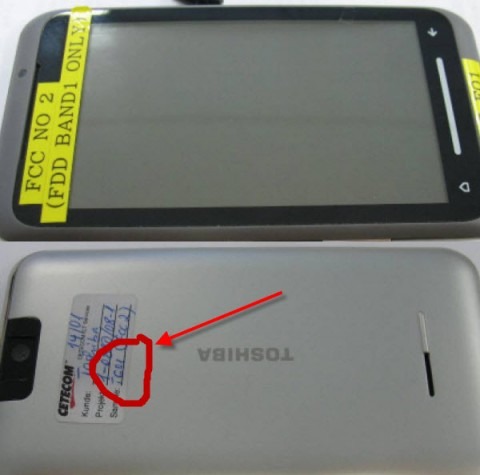 A Snapdragon-based Toshiba smartphone has cleared the FCC, but it's not the TG01 we're already familiar with.  In fact, while Toshiba and the FCC have seemingly used the TG01 for their photoset, the user manual for the device – which is called the Toshiba TM5-E01, though that's presumed not to be the final product name – suggests it's considerably thicker and most likely a clamshell handset.
Where the Toshiba TG01 measures 129 x 70 x 9.9 mm, the Toshiba TM5-E01 is listed as measuring 117 x 64 x 19.8 mm; it also has a smaller LCD, at 3-inches compared to the TG01's 4.1-inch display, and a secondary 0.8-inch 96 x 39 resolution monochrome OLED.  That sub-display would certainly seem to fit the profile of an outer-screen for status and network updates.
The full specifications of the Toshiba TM5-E01 are listed as follows:
Tri-band GSM (900/1800/1900), UMTS2100 connectivity
QSD8250 CPU, 256 MB of RAM, 512MB ROM
Windows Mobile 6 Professional OS
3-inch 800×480 WVGA 65K color touchscreen display
0.8-inch 96×39 B&W OLED LCD
Camera (unknown resolution)
Built-in Wi-Fi
A-GPS
Bluetooth 2.0 +EDRm miniUSB
microSD memory card slot
Dimensions: 117x64x19.8mm
Weight: 183g
Toshiba have made no mention of the new device, and only showed the TG01 at Mobile World Congress last month.  It looks as though they're planning on taking advantage of their Snapdragon lead with a range of smartphones, however; it's likely that by the time the clamshell handset launches it will use Windows Mobile 6.5.
[via UnwiredView]