Toshiba TG02 clears FCC, headed to MWC 2010?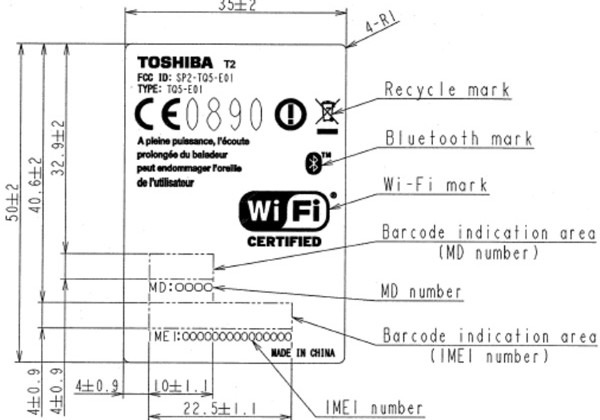 It's been months since we've heard anything about the Toshiba TG02, the successor to the mediocre TG01, but with Mobile World Congress 2010 just over a week away there's some action at the FCC.  A device listed as the Toshiba TG02 has cleared through, and while there are no photos of the handset itself, we do now know what sort of connectivity it will deliver.
As well as the usual quadband GSM/EDGE there's UMTS/HSDPA – though sadly not with US band support, it seems – along with WiFi b/g, Bluetooth 2.0+EDR and GPS.  There's also a basic outline drawing to show where the TG02's approval label will go, that suggests the curvy form-factor we saw in previous leaked photos may still be coming.
Of course, what we don't know yet is what OS the smartphone will run, whether it will continue to use the 1GHz Snapdragon processor of its predecessor, what screen size and touchscreen technology might be in effect or when, indeed, it could arrive on shelves.  Our guess is that Toshiba will stick to Windows Mobile.
[via Engadget]