Toshiba TG01 3G CDMA version for US?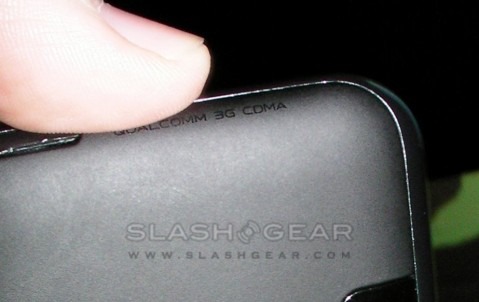 Toshiba were pretty tight-lipped at this morning's TG01 launch about what exactly you'll find inside that 9.9mm thick casing.  Aside from Qualcomm's 1GHz Snapdragon QSD8250 chipset, and confirmation that it will support GSM 3G HSDPA/HSUPA, there's certainly no word of a US launch.  However, printed on the side of the dummy handsets Toshiba had provided for photography, was the text "Qualcomm 3G CDMA".
Now obviously that doesn't confirm that there's a CDMA version of the Toshiba TG01 planned for the US – for carriers Sprint or Verizon Wireless, who both use the CDMA standard – but the QSD8250 inside this European TG01 does have a CDMA-capable sibling.  The Snapdragon QSD8260, announced at the same time, has both HSPA, as well as CDMA2000 1xEV-DO Rev. B support, with full backward compatibility.
Nonetheless, it would be a relatively small matter to switch the two chipsets and create a CDMA US-friendly version of the TG01, possibly presenting the Palm Pre with some big-screen competition.  You can bet we'll be asking Toshiba all about the possibility when we meet them at Mobile World Congress in under two weeks time.