Toshiba StorE Art 3 USB hard-drives pack up to 1TB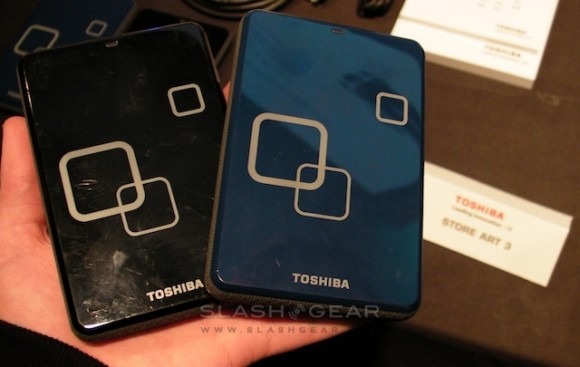 Toshiba's last new products this week are a pair of external hard-drives, in the shape of the new StorE Art 3 series.  The two drives hook up via USB 2.0 and pack 750GB or 1TB using a 2.5-inch HDD with an internal shock protection sensor and rubber edging for bump-resistance.
The company are also pretty proud of their new design, too, though as far as we could tell it consisted of a blue (750GB) or black (1TB) casing with a few squares sprinkled across the top.  Still, we don't ask for too much from our external storage, beyond gobs of gigabytes of course, so everything will depend on how Toshiba price the two StorE Art 3 HDDs when they go on sale in May 2010.
Press Release:
Introducing the Toshiba StorE Art 3 Series – modern, stylish and spacious external hard disk drives

London, UK, 16th April 2010 – Toshiba UK today announces a new range of stylish, portable hard disk drives (HDD) – the StorE Art 3 Series. A duo of new models feature brand new designs and hard drive storage of up to one terabyte (1TB) – the equivalent to one thousand gigabytes – allowing users to save even more documents, digital photographs, music or videos. Additional software provided with the StorE Art 3 also allows users to backup their PC system data so files are always safe, even if the PC fails.

The two StorE Art 3 models are available in 1TB or 750GB capacities, offering huge amounts of space for those looking to expand the storage on their PC or laptop. Both also feature an updated design, a contemporary gloss finish and a rubber edge for added durability. The 1TB model is available in black, with the 750GB option available in blue.

Pre-installed NTI® BackupNow EZTM software enables users to easily backup their complete PC system with a single click, so in the event of data loss, users can restore their system even if Windows is unable to start. Additionally, the StorE Art 3 models feature a range of security features, including data encryption, password protection, and an internal shock sensor to prevent potential damage to the hard drive. The StorE Art 3 connects via a USB 2.0 cable, allowing documents, files and saved data can be quickly and easily transferred between computers, without the need for an external power supply.

The StorE Art 3 is available from May 2010.