Toshiba Satellite X205-SLI4 Review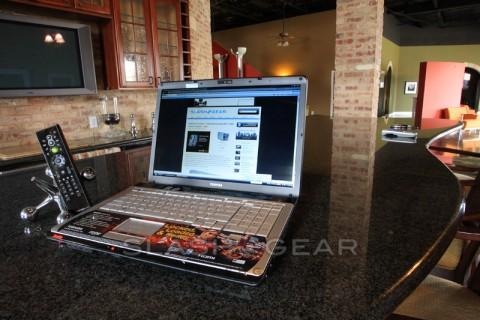 Despite its best multimedia intentions, Toshiba's X205-SLi4 notebook is always now going to be criticized for having an HD-DVD drive rather than Blu-Ray; but is this a single chink in its vast armor, or a sign of disappointment to come? SlashGear squared up to the $2,499, 9.37lb monster to find out.
Ignoring the optical drive for a moment, you can't really fault the rest of the X205's specs. Intel's T8100 Core 2 Duo 2.1GHz, 3GB of PC2-5300 DDR2 667MHz RAM, NVIDIA's SLI Dual GeForce 8600M GT graphics with 512MB of dedicated memory and two 160GB 7,200rpm hard-drives make for a very respectable media and gaming machine, certainly when you couple it to a 17-inch WSXGA+ TruBrite display capable of 1680 x 1050 720p HD.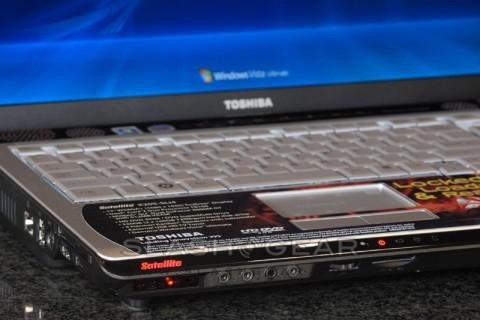 Gigabit Ethernet, Intel's 4965 a/g/n WiFi adaptor, a modem and Bluetooth 2.0 + EDR round out the networking options, while there's a webcam and microphone in the screen bezel, six USB ports, one firewire and an ExpressCard slot. Toshiba have also used all that chassis space to fit an HDMI port, S-Video, S/P DIF output that doubles as a headphone socket, a mono microphone jack and 5-in-1 media card reader. Four harmon/kardon speakers nestle around the keyboard, and there's a subwoofer hidden underneath.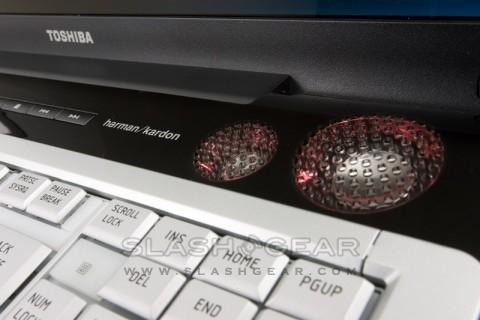 Needless to say, the X205 can handle just about any program or task you throw at it. Whether you're a gamer, a video editor or just like to have more processing cycles than you know what to do with, optical drive aside it's unlikely that the Toshiba would fail to satisfy. What we were more interested in was its media performance; how well it fits into a decent home theatre setup, whether for a popcorn-filled video night or a long session of immersive gaming.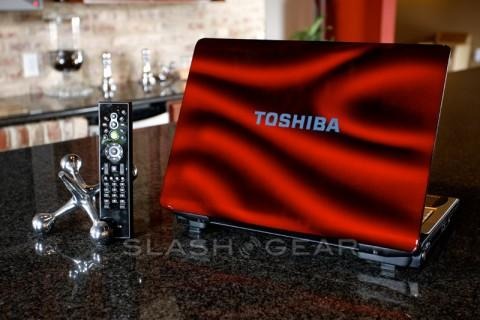 Setting up Toshiba's X205-SLI4 for TV display is quick and simple, with an HDMI port pumping out up to 1080i video. The X205 recognised the 1080p 24hz capable projector AE2000u in a blink, and I was able to force 24hz at 1080p to get solid 1:1 mapping.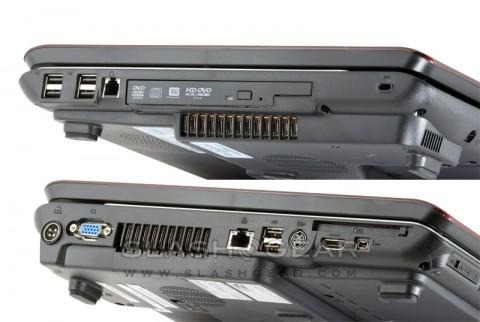 Next, we synced the X205 up via an Onkyo DCT 9.8 preamp-processor; the handshake was a little jumpy but it settled after few attempts. With the 9.8 in pass-through mode, I couldn't force the video out at 1080p 24hz, it knocked the existing 1080p 60hz set-up to 1080i (30hz) as soon as 24hz was selected. Setting the 9.8 in scale mode at 1080/60p eased up the handshake, but we still couldn't get 24hz pass-through the projector either. The pre-processing only does pass-through at 24hz, so such behaviors are to be expected. I can't blame the sources for less-than-ideal HDMI handshake as the earlier model of DCT 9.8 (used for testing) is known to have few problems of its own.
It's unfortunate that Toshiba was in the phase of pulling out of HD-DVD business at the time ours dropped for review. The X205 comes with a multimedia remote control and internal HD-DVD player that manages wonderful HD playback; the built-in drive and included software is more than sufficient and quieter than my Xbox 360 HD-DVD add-on/PowerDVD 7.0. Compared to Sony's PS3, fan noise during HD-DVD playback is slightly better on the Toshiba, fairly acceptable for a dedicated home theatre setup.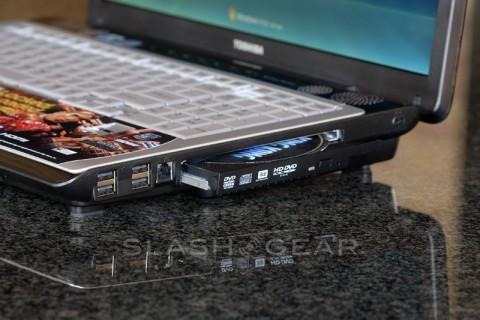 The Vista-multimedia features can be accessed via remote control without booting up the computer's Windows operating system, making it very convenient and easy just watching video or listen to music without going to Vista-nightmare. The remote control can power up Vista if the user has the power plugged in. It also comes with an external USB HDTV tuner that allows live TV to be paused or recorded, as well as individual or multiple recordings scheduled; it uses OTA HD signals rather than cable or satellite, but an optional antenna is required. I was excited to test out these features, since my last experience with PC-based ASTC was a few years back with the bulky first-gen myHD tuner. The second 160GB hard drive should be sufficient for most occasional users to try out recording shows, but unfortunately the Toshiba HD tuner uses a different size of RF-cable adaptor that's larger than a regular RF connector. The manual claimed this adaptor is included but we couldn't find it in the packaging. We did try out the beta version of MSN-Internet-TV, tons of ads but it worked without any notable issues even with a wireless connection.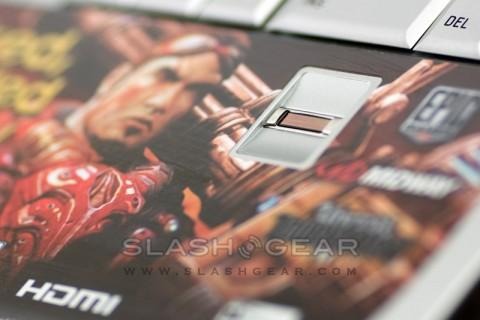 Toshiba did not leave out security feature on this system; by adding a finger print reader, it will make sure that your buddies won't be messing up with your games' saved data. The touchpad provides extra navigation features such as volume control and quick mail access. It also lights up in the dark!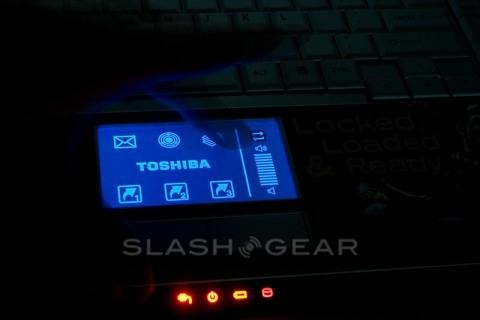 We ran 3D Mark 06 benchmark to test the 3D performance on this laptop. X205-SLi4 scores 3740 without SLi and 6632 with SLi enabled. Obviously enabling SLi helps when it comes to playing games that requires intensive 3D processing.
Like most desktop replacement laptops, the X205 comes with a huge external power transformer; as much as we hate to carry around a giant power adaptor, that's what you get for picking a 17-inch power laptop. But the big question is whether the 6000mAh internal battery is adequate to sustain the X205's power consumption. With HD-DVD playback on its own 17-inch screen, the battery is draining at the rate of ~1.8% per minute. King Kong lasted around 52 minutes before the annoying low-battery warning started to beep on me with a claimed 10% battery life left. The movie started to stutter to the point of being unwatchable at around 6%, then shut itself off about 30 seconds later. Basically, if you forget the power adaptor you have 55 minutes to show off your obsolete high-definition discs! Just to make sure it wasn't HD-DVD that consumed most of the power, we put in the GodFather One Legacy DVD. Well, Michael didn't make history saving the Don: battery life is improving with standard DVDs but it still completely drained in around 70 minutes. A completely bled-dry battery will take around 2 hours and 15 minutes to fully recharge.
That leaves the biggest problem of all: can we recommend the X205 SLi4 when one of its headline features – high-definition video playback – is dependent on technology we all now know is being dropped? While there's no doubting that the rest of the specs make this a monster of a home media and gaming machine, that HD-DVD drive is a big black mark against the Toshiba. I can only imagine that the company is scrambling to find alternative optical drives, this time Blu-Ray, and I know that if it were my money I was spending – and remember the range starts at a whopping $2,499 – I'd be waiting for that switch to happen before I ordered it. With a Blu-Ray drive in place, I'd have no qualms about recommending the X205.
[rating:3.5/5]