Toshiba Satellite L755D-S5204 Review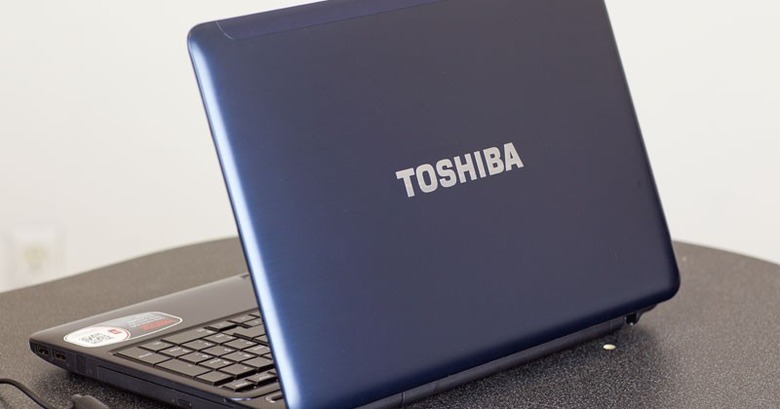 The Toshiba Satellite L750 Series offers affordably priced all-purpose laptops that target everyday use for students, families, or home businesses. They boast large 15.6-inch widescreen displays that come in either HD or 3D that are great for watching movies and multitasking along with strong all-around performance. And with a price tag starting at $474.99, the series is definitely worth consideration for the budget-conscious. We got to spend some time with the L755D-S5204 model from the series that's configured with an AMD Fusion accelerated processor, so continue after the cut for our full review.
Hardware
The specific configuration we have with model number L755D-S5204 comes with an AMD Fusion (aka Llano) quad-core A6-3400M processor. Various Intel processors are available in other configurations of the series. The A6-3400M clocks in at 2.3GHz and is paired with AMD's Radeon HD 6520G Graphics. The laptop also has 4GB of DDR3 1333MHz RAM, a 640GB HDD with 5400 RPM, and a DVD SuperMulti optical disk drive.
[sgbenchmark id=141 show=system]
As for the exterior, our model has a brushed aluminum blue that looks very stylish and sleek. It has a slight sheen and is smooth and cool to the touch, while the underside of the laptop is a textured black plastic material. The laptop is also available in four other colors with a Fusion Matrix pattern, including brown, silver, white, graphite, and red.
The same blue-colored brushed aluminum found on the lid continues onto the palm rest area where there is a multitouch trackpad that supports pinch, swipe, rotate, and scroll gestures and includes physical left- and right-click buttons as well. The black keyboard is not chiclet-style, but it does sport a full 10-key numeric keypad to the right. Above the keyboard are two standard stereo speakers with Dolby Advanced Audio.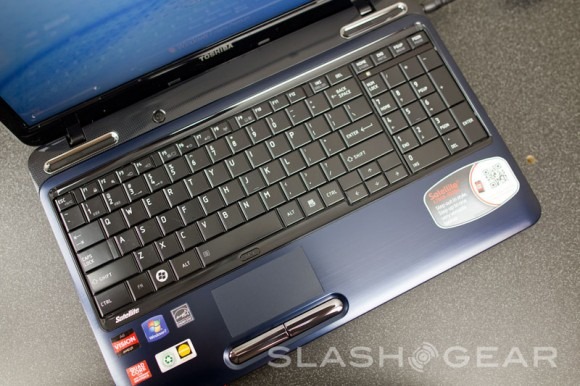 The 15.6-inch TruBrite LED backlit display supports 720p HD and has a 16:9 widescreen aspect ratio with a 1366 x 768 resolution. Embedded in the bezel is a standard webcam and mic for video chatting.
As for connectivity and ports, the L755D-S5204 features WiFi, Bluetooth 3.0, an RJ45 Ethernet port, two regular USB 2.0 ports, and one special USB 2.0 port that supports Toshiba's Sleep-and-Charge feature. This functionality lets users charge other devices via USB through the laptop without needing to power on the laptop. Additionally, it has a slot for a security lock cable, microphone and headphone jacks, and a built-in SD memory card reader.
Unboxing & Hands-on Video
[vms 892fbfd1c5a5b457e577]
Software & Performance
As for software, the L755D-S5204 runs Windows 7 Home Premium (64-bit) and comes with the Microsoft Office Starter 2010 bundle as well as the Microsoft Windows Live essentials like Photo Gallery, Messenger, Mail, Writers, and Movie Maker. It also has a slew of preloaded applications that add a bit more bloat, including Toshiba Face Recognition, Toshiba Upconvert, Toshiba App Place, Toshiba Bulletin Board, and Toshiba Service Station, to name a few.
Using the synthetic benchmarking tool Geekbench to measure the laptop's performance, we found that the L755D-S5204 scored only 3826. This is a bit disappointing and somewhat noticeable. Booting up took quite some time, while playing a DVD showed some initial lag and jitters.
[sgbenchmark id=141 show=score]
Video quality was decent and the large 15.6-inch screen provides a comfortable viewing experience but viewing angles are not so good. Slightly tilting the display up and down or sitting off-center shows some color distortion. Audio quality is average and leans towards the quiet side.
Battery
The L755D-S5204 has a surprisingly short battery life with its 48Wh 6-Cell Lithium-Ion battery. Sporting an AMD A6 accelerated processor that's supposedly superior in energy efficiency, the laptop somehow ended up with a battery rating of only up to 3 hours and 56 minutes. Other models in the series with Intel processors are interestingly rated at up to 5.7 hours. We got similar numbers with our own casual battery test, which involved playing a DVD at 100% brightness and 100% volume on the higher consumption power management mode called "Balance" —as opposed to the energy saving mode called "Eco." About an hour into the movie, the laptop was down to 61% remaining battery life.
Wrap-Up
The Toshiba Satellite L755D-S5204 looks sophisticated in its brushed aluminum skin, but underneath it's not nearly as refined. After all it is a budget-friendly 15.6-inch laptop priced at $548. Its AMD A6-3400M processing performance is a bit disappointing and so is its weak battery life. Capable of only under 4 hours of unplugged operation, it's not an ideal on-the-go laptop, but it could find a place as a desktop replacement.
However, if a desktop replacement is what you're really looking for, another Toshiba Satellite L series configuration such as the L775D-S7206 may be a better option. For roughly $150 more, you get a larger 17.3-inch screen, the same AMD quad-core processor, a Blu-ray drive, and slightly improved battery life. There are also other Intel Core processor configurations in the L750 lineup that could be better alternatives.