Toshiba Satellite L675D-S7022 Review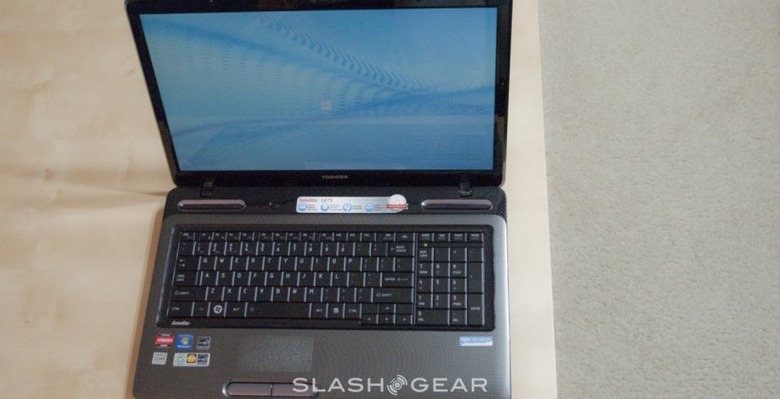 Desktop replacement notebooks may pull together the computing experience with more of a nod to portability than the average PC tower, but there's also a price sacrifice to be made if you want the same crunching abilities. Into this hotly contested field steps Toshiba with the Satellite L675D-S7022, a 17.3-inch notebook that sneaks in at under the $800 mark. Is this the budget desktop replacement to beat? Check out the full SlashGear review after the cut.
With an MRSP of $799.99 you know you're not going to get the most powerful of components, and sure enough the Satellite L675D-S7022 has a pretty modest spec sheet. Toshiba has picked a 1.8GHz triple-core AMD Phenom II X3 P820 processor, paired with a 5,400rpm 500GB hard-drive and 4GB of RAM. Between 256MB and 1,405MB of that RAM can be co-opted by the integrated ATI Mobility Radeon HD 4250 graphics; already you can guess that this isn't the machine for gamers.
[sgbenchmark id=103 show=system]
Meanwhile there's a Blu-ray reader/DVD burner, WiFi b/g/n, 10/100 ethernet and an integrated webcam, together with two USB 2.0 ports, a combo USB/eSATA port and an HDMI output. No Bluetooth, mind, nor gigabit ethernet or a PC Card/ExpressCard slot. The 6-cell, 48Wh Li-ion battery is rated for up to 3.73hrs runtime. As is usual with notebooks this size, the Satellite L675D-S7022 has a separate numeric keypad to the right of the keyboard, though the spacebar is slightly smaller than we'd expect.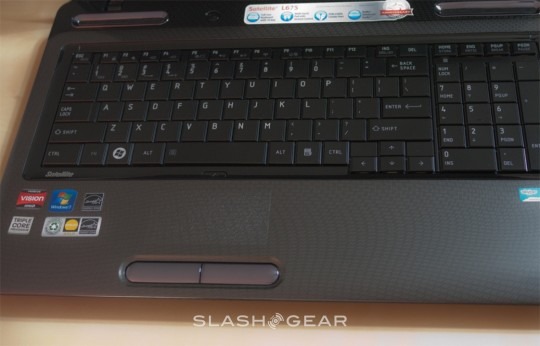 Aesthetically it's inoffensive but not exactly eye-catching, while Toshiba's plastics don't creak or flex but, on the other hand, lack the true quality feel of more expensive machines. The glossy finish to the lid and palm-rest are prone to collecting fingerprints, and at 6.6lbs it's a heavy machine; Apple's 17-inch MacBook Pro, for instance, weighs the same despite having a full metal body. Unfortunately, the biggest shortcoming is the display. Toshiba's 17.3-inch LCD has reasonable viewing angles, is bright and averagely crisp, but with a native 1,600 x 900 resolution falls short of the Full HD 1080p we'd expect.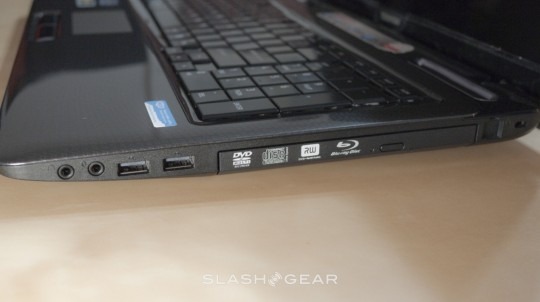 Given the presence of a Blu-ray drive, the miserly resolution is a real disappointment. It's not that the Satellite L675D-S7022 is incapable of support HD video, either; to test its performance we used Geekbench, a synthetic benchmarking tool that measures processor and memory, and the Toshiba scored 3,250 (primarily held back by poor memory bandwidth performance). That's short of the 3,925 scored by the Core i3 based Gateway NV59C we reviewed recently, which also comes in at $799.99 though has a 15.6-inch display.
[sgbenchmark id=103 show=score]
In terms of real-world performance, the AMD Phenom II X3 holds its own for the usual mixture of browsing, media playback and emailing. We were able to juggle several browser windows, streaming audio in the background and play windowed video without complaints, thanks in part to the 4GB of RAM. Streaming HD video was also manageable too, but the integrated graphics mean anything above the most basic gaming is beyond the Toshiba's abilities.
Battery life, meanwhile, fell significantly short of Toshiba's predictions. With a combination of browsing and occasional audio/video playback, as described above, the Satellite L675D-S7022 exhausted itself in 2.5hrs; playing video using the optical drive saw that dip to under 2hrs.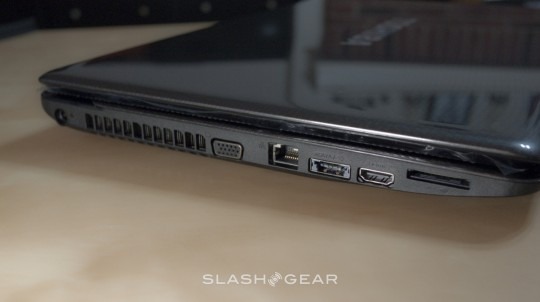 The Satellite L675D-S7022 makes a very good argument for the case that there's such a thing as too much cost-cutting. We can forgive the notebook its moderate performance and disappointing battery life, but Toshiba's choice of sub-1080p display on a machine outfitted with a Blu-ray drive seems ridiculous. That the Satellite L675D-S7022 is obviously capable of smooth HD playback, evidenced by its HDMI output, just rubs salt into the wound. Without those extra pixels the Toshiba's high-def credentials are seriously undermined; if you only ever intend to watch your content on a separate display then the Satellite L675D-S7022 might fit the bill, but we'd rather spend a little extra and get the 1080p experience in an all-in-one package.