Toshiba Qosmio X770 3D packs Core i7 and 3D webcam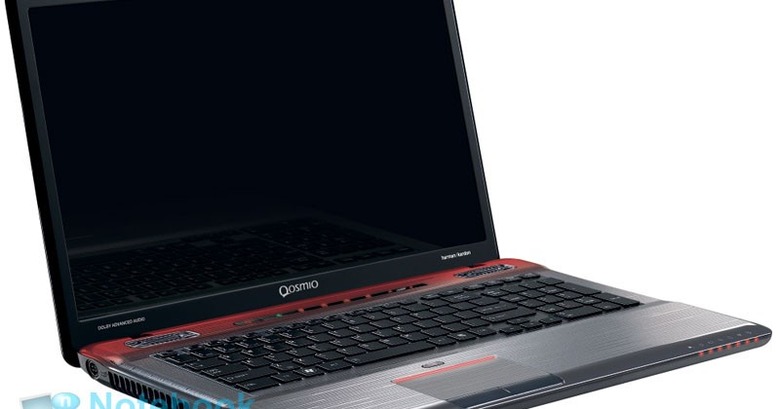 Toshiba is readying a new gaming notebook, the Qosmio X770, which will also be available as a 3D version using NVIDIA's 3D Vision technology. The X770, Notebook Italia discovered, has a 17.3-inch 1920 x 1080 Full HD display packed into a distinctively-colored desktop replacement chassis; inside there's Intel's 2.0GHz Core i7-2630QM processor (with a 2.9GHz potential Turbo Boost overclock) and a pair of hard-drives, one of which is a hybrid HDD/SSD model.
That adds up to 1.25TB of storage, with the 500GB hybrid and a 750GB regular drive. There's also a Blu-ray drive, 8GB of DDR3 1333MHz memory, and NVIDIA GeForce GTX 560M 1.5GB graphics. Connectivity includes WiFi b/g/n, Bluetooth 3.0, gigabit ethernet, HDMI – with support for Toshiba Regza Link – VGA, a single USB 3.0 and three USB 2.0 ports, along with a multi-format memory card reader and audio in/out.
The 41 x 27 x 2.8-4.2 cm, 3.4kg monster runs Windows 7 Home Premium 64-bit. The 3D version – the Toshiba Qosmio X770 3D – will also have a 3D-capable webcam, while the standard model will be priced from around €1,300 ($1,847).