Toshiba Qosmio X500 gets Blu-ray, 1080p, Core-i7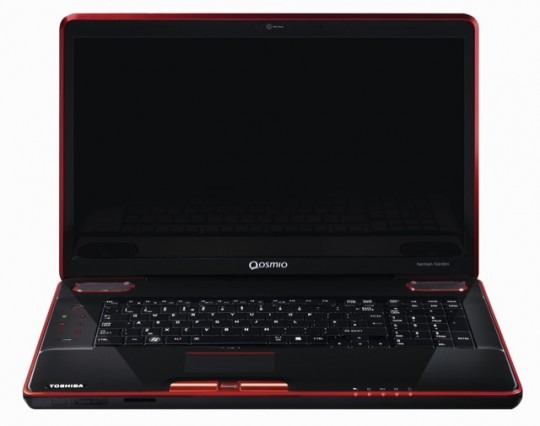 Toshiba have announced the Qosmio X500, their 18.4-inch Full HD desktop-replacement notebook packing an Intel Core-i7 2.8GHz processor and NVIDIA GeForce GTX 250MNV 1GB graphics.  Set to arrive by the end of October, the Qosmio X500 squeezes in a Blu-ray burner, up to 8GB of DDR3 memory, twin 500GB 5,400rpm hard-drives and WiFi b/g/n.
There's also Bluetooth 2.1+EDR, three USB 2.0 ports (each with sleep-and-charge, which rejuices your peripherals even when the X500 is powered off) and a combo USB 2.0/eSATA port.  Unsurprisingly there's an HDMI output, but you may be content with the X500's 1920 x 1080 16:9 TruBrite display and Harman Kardon stereo speakers; the notebook can also upscale standard-definition content, such as DVDs.
All in all, the perfect machine for HD entertainment and gaming, but perhaps more than you'd usually want to lug in your backpack.  No word on pricing for the new Qosmio, but we're guessing from the spec sheet that it won't be cheap.
Press Release:
Premium Power And Performance – Toshiba Introduces The Qosmio X500 Gaming Laptop

· Outstanding multimedia features, including rewritable Blu-ray drive and Toshiba's Resolution+ video upscaling technology

· 18.4" Full HD TruBrite® LCD screen and high quality Harman Kardon audio

· Qosmio X500 features premium nVIDIA GeForce graphics technology and Intel® Quad Core processing for the ultimate gaming experience

London, UK, 23rd September 2009 – Toshiba UK today announced the newest member of the acclaimed Qosmio family – the Qosmio X500. The Qosmio X500 offers high performance processing power, combined with the latest graphics capabilities, to deliver a truly outstanding mobile gaming experience.

From the sleek, glossy black chassis with Toshiba Fusion grid design to the backlit keyboard and LED-feathertouch controls, the Qosmio X500 is designed to show its premium home computing and gaming credentials.

Immersive Gaming Experience

The Qosmio X500 is designed to deliver against future challenges in the rapidly evolving gaming market like HD content, fast moving scenes, and new types of interactive, online deliveries and gaming platforms.

Powered by Intel's latest Quad Core processors and the latest nVIDIA® GeForce® graphics, the Qosmio X500 delivers a realistic gameplay experience with intense visuals, vibrant environments and dynamic character effects. The large 18.4" TruBrite® Full HD LCD screen with 16:9 aspect ratio at a resolution of 1920x1080 pixels provides bright, immersive HD images. Completing its impressive AV setup are stereo speakers made by audio specialists Harman Kardon®, providing a rich and thrilling experience, perfect for PC gaming.

Elite Multimedia Performance

The 18.4" TruBrite® Full HD 16:9 LCD screen is not only designed for gaming – the Qosmio X500 is packed with features to deliver a superior home entertainment experience in a laptop. The Qosmio X500 features a rewritable Blu-ray drive (BD-RE), delivering movies with breathtaking picture and sound quality on the go; alternatively, the power of the Intel® Quad Core processor makes editing home HD movies and backing up digital content to Blu-ray fast and simple.

The Qosmio X500 also features Toshiba's Resolution+ upscaling technology, enabling the standard definition DVDs and video files to be upconverted to near high definition quality. It also features an HD web camera, allowing users to record HD video and webchat in wide screen 16:9 format.

Designed For Ease of Use

Each aspect of the Qosmio X500 is designed with usability in mind. The Touch Pad with Multi-Touch Control provides an alternative to conventional scrolling. For quick and convenient logon, the Qosmio X500 comes with a finger print reader and Face Recognition via the embedded HD web cam. The Toshiba ConfigFree™ utility facilitates wireless network configuration and online access via the embedded WLAN interface or via Bluetooth; and eight red-coloured feather touch buttons offer instant access to frequently used multimedia features such as volume control, fast forward, play, and stop.

Capacity and Connectivity

The Qosmio X500 offers up to 8GB DDR3 (1066 MHz) memory and features up to 1TB HDD (hard disk drive) storage. Peripheral devices can connect via three USB 2.0 ports or via an e-SATA/USB combo port. All USB ports support Toshiba's Sleep-and-Charge technology, allowing users to charge mobile devices even if the laptop is switched off. Toshiba's REGZA-Link HDMI-CEC (High Definition Multimedia Interface – Consumer Electronics Control) connects high-definition video and audio devices, so all can be controlled through one single remote control. Finally, a 5-in-1 Bridge Media port completes the connectivity features of the Qosmio X500.

As a responsible global corporate citizen, Toshiba ensures that all laptops are RoHS-compliant, effectively reducing the environmental impact by restricting the use of lead, mercury and certain other hazardous substances. Additionally, the Toshiba Eco Utility, accessible via a dedicated button, helps to reduce power consumption. It displays current power consumption and the power savings achieved by activating Eco Mode in Watts or translated into CO2 emissions.

Toshiba Qosmio X500 specification details:

· Intel® Core i7-720QM (2.8GHz, 6MB L2, 1333MHz FSB)

· Up to 8GB DDR3 RAM (1066MHz)

· Up to 1TB HDD (500GB 5400 rpm + 500GB 5400 rpm)

· 18.4" Full HD TruBrite® LCD screen (1920 x 1080p)

· 6x BD-RE optical drive (Blu-ray rewritable)

· nVIDIA® GeForce® GTS 250MNV (1GB)

· Integrated Wi-Fi 802.11b/g/Draft-N

· Bluetooth 2.1

· 3x USB 2.0 Sleep-and-Charge ports

· 1x USB Sleep-and-Charge/e-SATA combo port

· 5-in-1 card reader

The Qosmio X500 will be available in the UK from late October