Toshiba Portege Z830 hands-on [Video]
Toshiba's first ultrabook, the Portege Z830, was something of a surprise reveal at the company's IFA 2011 press conference. Based on Intel's Core processor range, the company has managed to fit up to a Core i7 CPU inside the 0.63-inch thick chassis, but still keep weight down to a mere 2.5 pounds.
The keyboard is a little short on travel in comparison to larger machines – no surprise given the relatively shallow key tray on offer – but we'll forgive Toshiba since they used the space to add an 8-cell 47Wh battery. The keys themselves are backlit, too, and water resistant, while above the 13.3-inch display looked bright despite the strong show lighting and the necessarily compact backlighting.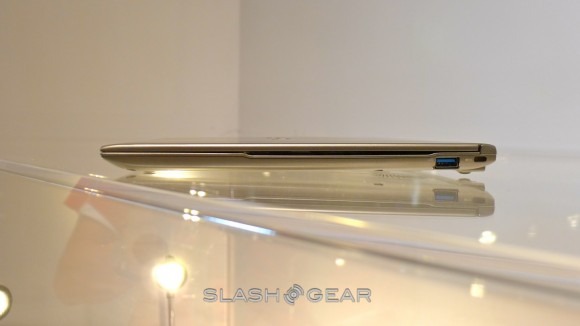 Unlike, say, Apple's MacBook Air, the Z830 gets an ethernet port, and both HDMI and VGA. There's also an SD card slot and three USB ports, two USB 2.0 and a USB 3.0 for higher-speed data transfers. Audio in and out round out the main ports, plus there's WiFi b/g/n inside.
Toshiba Portege Z830 video:
[vms 7526ac555f8d67727caf]
Toshiba isn't talking pricing yet, but if it can bring the Portege Z830 in at under the $1,000 mark – as Intel originally promised for ultrabooks – with similar specifications to what Apple offers on the MacBook Air, then we can see the company having a hit on its hands. Release date isn't announced at this stage, but you know SlashGear will be waiting.
Toshiba Portege Z830 walkthrough:
[vms 8d71c7f6549587123132]