Toshiba Portégé R600 Review
Toshiba may not have the fashionable appeal of Apple, nor the solid reputation of Lenovo, but they do know how to push the envelope. Their Portégé series of ultraportables is already slim, and was the first to offer a 128GB SSD back in 2008; now it's the first, in the shape of the Portégé R600, to offer a 512GB SSD. Legitimate business tool or shallow one-upmanship? SlashGear decided to find out.
In terms of physical design, at 283 x 215.8 x 19.5-25.5 mm and 2.46lbs the Portégé R600 is certainly thin and light, but don't expect a full metal casing for your money. Instead, you get a plastic shell with metal-effect paint; Toshiba say it's part of their shock-absorbing design, but we can't help but be a little disappointed at how it makes the R600 feel cheap compared to its MacBook Air and ThinkPad X301 rivals.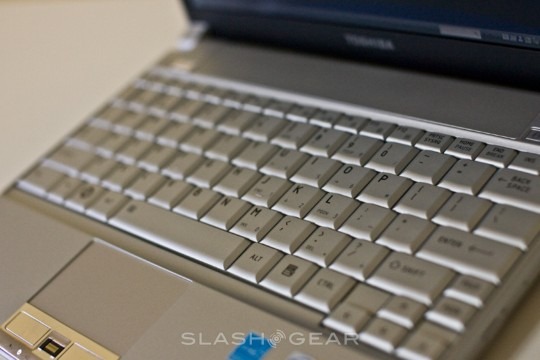 Under the hood, aside from that 512GB SSD, there's Intel's Core 2 Duo SU9400 running at 1.4GHz, 3GB of DDR2 RAM, and Intel's GMA 4500MHD graphics chipset. There's also a DVD burner, WiFi a/g/n and Bluetooth 2.1+EDR, together with gigabit ethernet, an ExpressCard slot and an integrated webcam. As for ports, there are two USB 2.0, one combo eSATA/USB 2.0 port with "sleep and charge" for powering gadgets while the R600 is shut down, an SDHC reader, audio in/out and VGA output. We're disappointed that Toshiba have persisted with VGA rather than DVI or HDMI.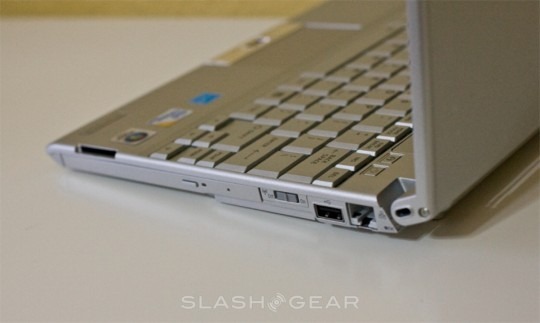 The 12.1-inch widescreen display runs at WXGA resolution, and as well as being wafer-thin has a party-trick for use outdoors. A dedicated button in the top right-hand corner switches it into transflective mode, all the better for using in direct sunlight. So set, the display uses direct light shining on it to reflect out and augment the artificial backlighting; by ramping down the latter, Toshiba can save battery power compared to normal notebooks which have to increase backlighting in order to remain legible. It's a neat trick, but ironically it does mean you need relatively bright sunlight in order for the display to look its best; anything less, and you're better off – visibility-wise, anyway – to crank up the standard backlighting.
The Portégé R600 isn't a multimedia powerhouse by any stretch of the imagination. With a single monaural speaker, you'll be wanting to plug in headphones for anything but the most basic media use, and the GMA 4500MHD graphics chip is no use for gaming or 3D rendering. Watching DVDs (or ripping them to the SSD and watching from there) is a more rewarding experience, and even when the R600's fan kicks in it's still a quiet notebook overall.
Where the R600 does step up is in situations where it can rely on the SSD's speed benefits. In our Geekbench benchmarks the ultraportable scored 1727 overall, around the same as the Lenovo X301 at 1772, and less than the new-generation MacBook Air at 1953; however the user experience in Vista was much improved compared to the ThinkPad. The whole OS feels snappier, applications load far faster, and heat is reduced.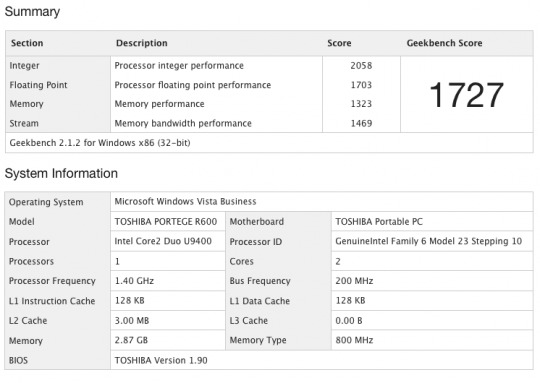 There are battery benefits to an SSD too, and Toshiba make some pretty impressive claims on their spec-sheet. They quote up to 7.53 hours runtime from the standard 5,800mAh battery; we found the Portégé R600 could manage 4 hours and 10 minutes when tested with a mixture of browsing, word processing and listening to MP3s with headphones. Watching a DVD, the R600 managed 3 hours and 41 minutes before it expired; all testing was done with both Bluetooth and WiFi turned on.
The biggest issue, unsurprisingly, is the price. While the Portégé R600 range starts at $2,099, expensive for an ultraportable, that gets you the 160GB 5,400rpm HDD model. If you want the R600-ST4203 512GB SSD model we have here, you're looking at $3,499.99. That's almost double what you'd pay for the top-spec MacBook Air, and over $1,000 more than the ThinkPad X301; admittedly they each have a mere 128GB SSD.
Is the R600 – and 384GB – worth all that extra money? For most users, no. The most obvious application for a huge chunk of fast, solid-state storage is audio and video editing, something the R600's graphics abilities don't really lend themselves to, and it's tough to imagine any businessperson who might have enough presentations, documents and files to occupy such a huge drive. There's a sense that Toshiba have produced the Portégé R600 half for bragging rights and half because they think they should: because SSDs are getting bigger, and it makes sense to drive the market by slotting them into appealing machines. Perhaps a desktop-replacement notebook would be a more suitable fit, but that would lack the ability to surprise colleagues and friends when you tell them your slender ultraportable has more storage than their home PC and a DVD burner to boot. Not for everyone then, no, but the small minority who pick up an R600 will have a capable, capacious machine, while the rest of us can look forward to seeing similarly large SSDs a generation or two down the line.
Unboxing Video
[vms 23406c6cecf84a7ebb0f]