Toshiba planning internet-connected HD media player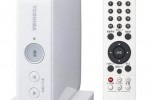 Toshiba may have been late to the Blu-ray party, but that doesn't mean they're putting all of their eggs in one blue-lasered basket.  According to Olivier Van Wynendaele, assistant general manager in marketing of Toshiba Europe's consumer products division, the company is also working on an internet connected storage device that works with high-definition content.
"BD is not the unique answer to the one problem. There's flash memory and online as well, and we are investing in delivering HD content by those means too. There is a storage product we are working on at the moment that connects specifically to the internet but I can't talk any more about that right now" Olivier Van Wynendaele, assistant general manager, marketing, consumer products, Toshiba European Operations
Wynendaele wouldn't be drawn on what that product was exactly, though it's not hard to imagine some sort of networked media player with streaming HD content and that concentrates on digital delivery rather than physical media.  According to the executive, Toshiba have been investing in delivering HD content via both flash memory and online.
As for why they've jumped into Blu-ray now, rather than at some point over the past eighteen months since HD-DVD officially threw in the towel, Wynendaele suggested it was a combination of market readiness, product maturity and retailer demand.  In computing, he denies that the format's absence has impacted laptop or PC sales, suggesting that it's only now that high-end machines are expected to come with a Blu-ray drive of some sort.