Toshiba PetBook K9 provides pups with mobile computing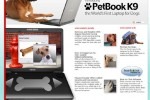 Pet lovers are always on the lookout for something new and exciting to entertain their furry friends with. And it seems like Toshiba is really stepping up to the plate here with their PetBook K9, which purports to be the first laptop for dogs.
I mean, this thing is the perfect gadget for your favorite pet. It features a bone-shaped track pad, a web cam and SlobberGuard, so as to ensure the laptop can stand up to the standard doggie wear and tear.
The rawhide casing makes for a tasty treat and the bark2txt software makes it easy for your pup to jot down his thoughts. It's truly a must-have for pet lovers everywhere. Or, you know, for the extremely gullible.
[via Ubergizmo]