Toshiba outs Canvio Slim as world's thinnest 500GB hard drive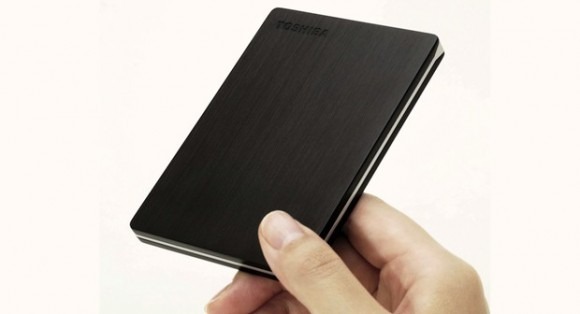 The folks from Toshiba look to continue the trend of packing tons and tons of storage into an extremely small space. Today they've outed their latest Canvio Slim portable hard drive and are stating it's the "world's thinnest" portable hard drive. Coming in at just 9mm thick offering 500GB of storage for only $115 — lets take a look.
Essentially they are using an Ultrabook class leading 7mm portable HD, packed it into an ultra-sleek enclosure like most portable hard drives, added a few ports and are offering it for an excellent price. This new Canvio drive is extremely small and will fit in nearly all pants or shirt pockets — basically being the size of most smartphones these days.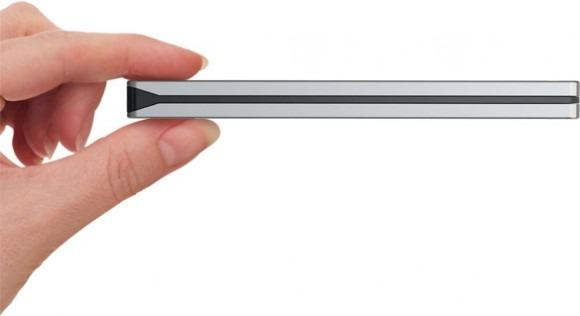 As a comparison the new iPhone 5 is just 7.6mm thick, and the Galaxy S III is 8.6mm in size. Making this new 500GB portable storage option pretty sleek. Not only is Toshiba's latest drive sleek and cheap, but it's also quite fast being operated and powered by USB 3.0, with full compatibility with both PC and Mac. Here's what Maciek Brzeski, VP of Product Marketing had to say:
As consumer electronics continue to get thinner, lighter and more portable, we recognized a huge demand to create a storage device that is in line with those trends," and With the Canvio Slim, consumers can now easily stash their storage device right along with their Ultrabook, knowing that their data is always safe, even when they're on the go."
Other specs include 5400 RPM and an 8MB cache buffer, along with a 12 ms average seek time. It's not the fastest around, but it sure is portable. You can get it from Toshiba direct today for $115 in Graphite Black or brushed Aluminum Grey, and it should hit retail stores starting in October.
[via MaximumPC]