Toshiba Libretto W100 Heading to Japan on August 11th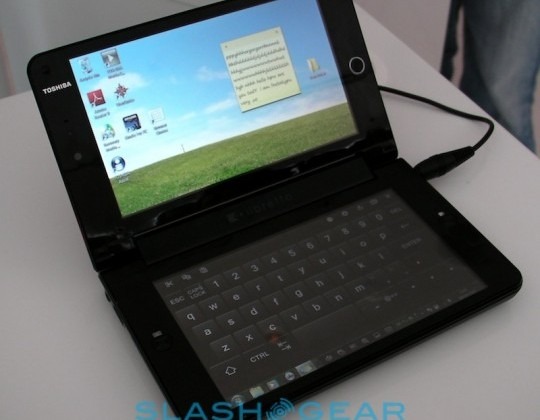 While everyone was busy dreaming about the Microsoft Courier, Toshiba was already hard at work on one — and one they actually planned to release. And while initial thoughts on the device have been all over the place on the Internet, the Libretto W100 does indeed do one thing very well: it's a good way to get your Courier needs placated, because you can't have the Courier. If you're in Japan, or if you're willing to take a few flights to get their, then be happy to know that the dual-screen tablet is landing on those shores August 11th.
If you haven't done so already, you should probably go check out our own hands-on time with the Toshiba manufactured tablet. If anything, it will let you know whether or not you should even be excited about something like this. As for the device itself, you'll be looking at two 7-inch, 1024x688 multitouch touchscreen displays. Which will show you Windows 7 all day long. The screens aren't set in any particular lifestyle, either. Depending on what you're doing, their role will inherently change, making their usefulness exponentially better. For example, when you've got the tablet opened like a notebook, the bottom screen will show a multitouch keyboard, while the top-half will function like a normal (touchscreen) display. Of course, you can find an accelerometer inside, and it is powered by a 1.2GHz Pentium US400 processor. It has 2GB of RAM tucked away inside, and a 52GB solid state drive (SSD) will give you plenty of space. For awhile.
As for the battery, that's of the 8-cell variety. There is a single USB port on the device, there's Bluetooth connectivity, and a webcam. A microSDHC card slot is also present. As for the price in Japan, that apparently hasn't been decided on quite yet. However, Toshiba is still saying that it will cost $1,099 when it launches here in the States. When is that? Well, they said some time in the Summer, but obviously that may have to be thrown out the window.
[vms 25934ee377cfda20e414]
[via Electronista]