Toshiba L9300U 4K Ultra HD TVs now available in the US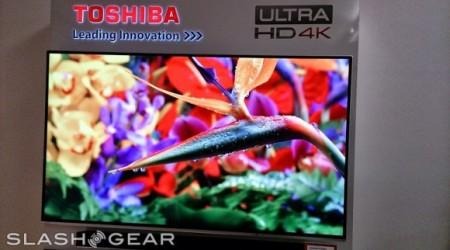 Toshiba has announced that the L9300U series of 4K ultra HD TVs is now available at select retailers the US. The series of 4K ultra HD TVs are available in 58-inch, 65-inch, and 84-inch screen sizes. Toshiba will also be providing a couple very nice upgrades at no additional cost to buyers of the televisions for a limited time.
Those upgrades include a BDX6400 4K Upscaling Symbio Blu-ray player and a SBX5065 300 W sound strip. The L9300W televisions are powered by Toshiba's proprietary second gen CEVO 4K Quad+Dual Core Engine. The televisions also feature Resolution Restoration, Color Restoration, and Surface Brilliance Enhancement technologies to help improve image quality.
All televisions in the series have a gun metal trim color and matching frame stand. Toshiba also notes that the televisions will ship with HDMI 1.4 capability, but a free firmware upgrade will be coming in December 2013. The firmware update will bring support for HDMI 2.0 and 4K 60 FPS content.
Other image enhancing technologies offered on the TV includes ClearScan 240Hz refresh rate technology. The television also includes Expert Mode and ColorMaster calibration capability. The L9300U series also has advanced Cloud TV functionality with an open browser and wireless keyboard, accessibility for a wide variety of media apps, support for Skype, and integrated Wi-Fi and WiDi capability. The 58-inch TV is available for $3999, the 65-inch TV is available for $5499, and the 84-inch TV is available for $16,999. Toshiba stated back in June that the televisions will be available sometime in the summer of 2013.
SOURCE: Toshiba