Toshiba L7200 Cinema Series LED Smart 3D TV hands-on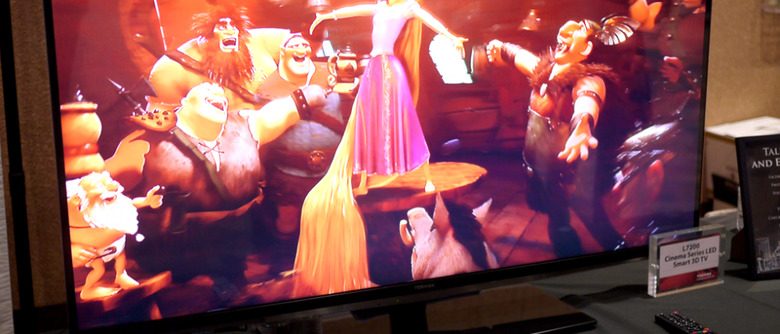 There were no shortage of Smart TV concepts and final executions this year at CES 2012, and Toshiba came packing one of the most awesome selections to the Pepcom event in the L7200 Cinema Series LED Smart 3D TV, one massive customer. This television includes passive 3D, on-board cable program guide, and all the bells and whistles you'd hope any modern Smart TV would hold. And with such a tiny bezel around this display that'll be offered in two sizes this spring, 47-55 inches never looked so gigantic – or if it did, it looks bigger than ever now!
The Toshiba L7200 series will blow your eyeballs out of their sockets with Edge-lit LED brightness on an X-Gen panel, it, again, bringing you an unhindered picture with its ultra-narrow bezel. This television has a 240Hz refresh rate, and on-board Wi-fi to keep you connected to your favorite streaming services. Along the back you'll find a generous 4 HDMI input ports, and SmartCentral will be your user interface guide. You'll control the TV with a full QWERTY wi-fi enabled keyboard that's included in the box – this keyboard was not available at the time of the hands-on, but I assure you, it exists.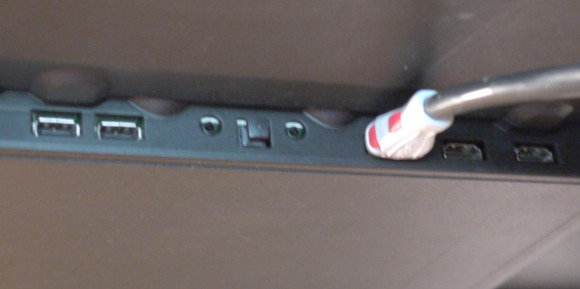 Inside this beast you'll find a dual-core processor for hefty handling of the programs you want to interact with, it assisting in accelerating your CQ Video Engine for superior graphics when you're streaming from the web. Then for those of you that love the third dimension, this TV includes what Toshiba is calling "trivector" 2D to 3D conversion on the fly. Also, again, you'll need no glasses to see this 3D effect, it showing up to your human eyes with no additional assistance.
We're entering a really strange age for television, that's for sure, and Toshiba isn't going to be left behind – not by a long shot.
BONUS very BRIEF video for your enjoyment: