Toshiba Glasses-free 3D TV eyes-on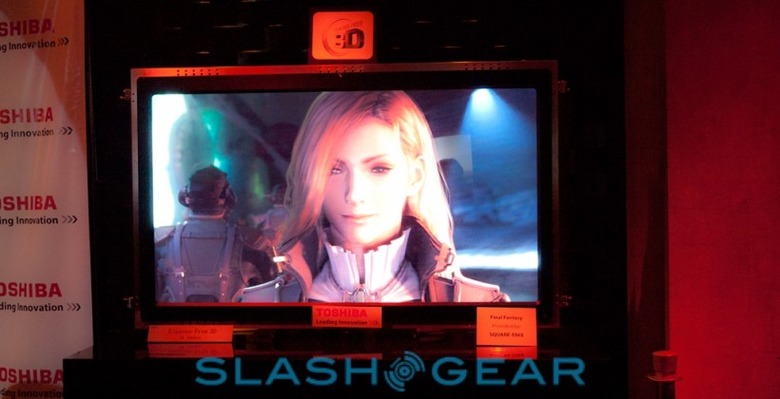 Toshiba has been demonstrating its glasses-free 3D TV technology at CES 2011, though the company is at pains to point out that it'll be a while before the system makes its way into a commercial product. The 56-inch prototype 4K HDTV uses a lenticular display which, from certain angles, allows you to see a 3D picture without needing to wear polarizing or shutter glasses. We have to agree with Toshiba on this one, it's not ready for prime-time, but it does have promise.
The 3D footage on offer was limited; while the unnamed set supports 4K, that's only for 2D content at the moment. For 3D purposes, Toshiba were playing looped video game demos of Final Fantasy, which could be seen from three viewing positions spaced in front of the set.
That's a significant drawback from 3D displays which use glasses, since we're guessing most people will want to be able to show off 3D content to more than just a couple of viewers. Still, the quality was surprisingly good given the prototype status of the panel, and Toshiba says they're still doing plenty to refine the system. Not one for the living room quite yet, but if you hate 3D glasses then there may be a rescue on the horizon.