Toshiba Excite Android tablet gets release date

When the first Toshiba Android tablet was released, it seemed like a really big deal – at one point it was even rumored that they'd be the ones to host the tablet-centric Android 3.0 Honeycomb as a hero – alas that did not happen, and now that the first iteration (call the Toshiba Thrive, just so you know) is both too fat and unwieldily to sell as a top dog, the big T is sending out a new generation called Toshiba Excite. This tablet was revealed a few weeks ago as a contender for the Samsung Galaxy Tab 10.1 with its dual-core 1.2Ghz Texas Instruments OMAP4 processor and its 10.1-inch display at 1280 x 800 resolution – and today Mobile Syrup relays Toshiba information that it'll be on sale come February 2012.
By that time we expect Toshiba to once again be in the same boat – with a tablet that on its own is certainly worth the cash that a person dropped on it, but compared to the rest of the current Android tablet lineup just does not compete. Even though this tablet will still be 7.7mm thin, will have a 5 megapixel camera on the back, a 2 megapixel camera on the front, and will of course have a 16GB and a 32GB option, will certainly be shut out by such masterpieces as the Asus Transformer Prime. A brighter screen, twice as powerful a processor, and two color choices to boot? I think so, yes.
That said, the OMAP4 is certainly nothing to scoff at, and this unit does look quite enticing to the eye with its stark aluminum silvery back and its microSD card slot, not to mention its miniHDMI-out port. Like the original Toshiba Android tablet, we'll certainly have a few options for connections. With a market of consumers looking to get the tablet that suits them perfectly, it'll be the people who trust the name TOSHIBA that pick this bad boy up — other than that, those who love things that are SHINY.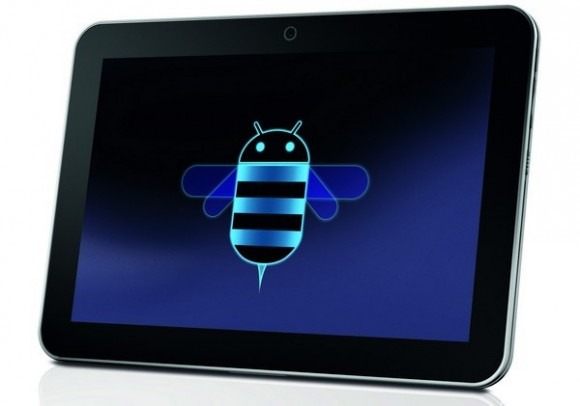 [via Toshiba]