Toshiba Encore Hands-On: 8-Inch Win 8.1 Tablet Gives Acer Competition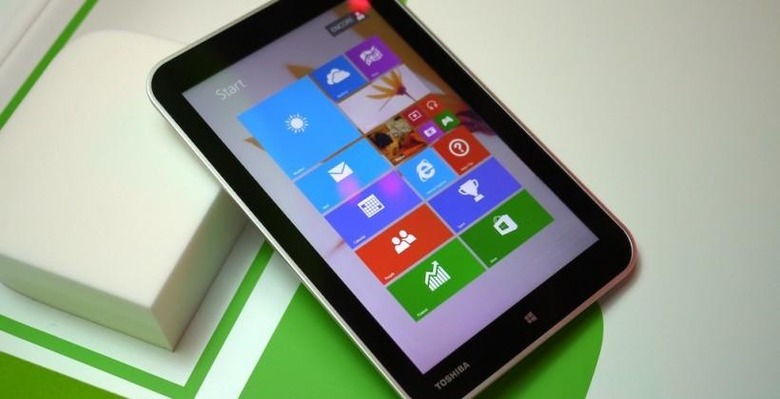 8-inch Windows 8 tablets didn't get off to a particularly auspicious start, with Acer's Iconia W3 struggling to impress with its lackluster display, but Toshiba is hoping the Encore will turn around the trend. Announced at IFA 2013 today, the Encore puts Windows 8.1 on an 8-inch, 1280 x 800 screen run by an Intel Atom Bay Trail T processor and 2GB of LPDDR3 memory; best of all, the display is a wide-angle HFFS panel, which has the viewing angles, consistency of color, and brightness that the Iconia W3 lacked.
Toshiba is positioning the Encore as a companion device in the truest sense: something you carry around with you all the time. The 213 x 136 x 10.68 mm frame should lend itself reasonably well to that – it might fit in an inside suit pocket if you're lucky, and can certainly be held in one hand when in portrait orientation – while the plastic chassis obviously lacks the premium feel of an iPad mini but is nonetheless sturdy.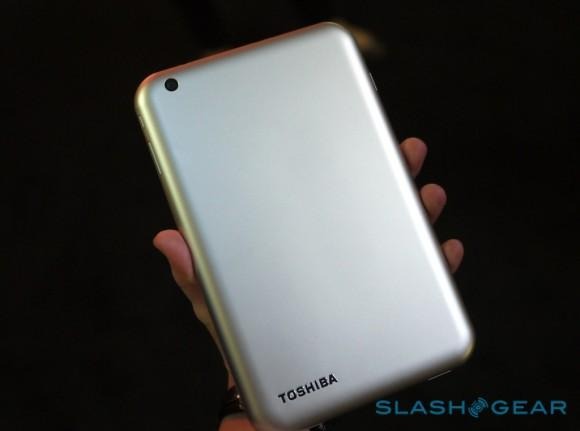 Connectivity includes WiFi a/b/g/n and Bluetooth, though no cellular option unlike the iPad mini. On the plus side, wired connectivity goes far beyond what Apple offers on its smaller slate, with microUSB 2.0, micro HDMI, a microSD slot (good for up to 64GB cards, adding to the up to 64GB of internal storage), and a 3.5mm combo headphone/microphone jack. There are also stereo speakers, which Toshiba expects to be Dolby Digital Plus certified before the year is out.
Toshiba Encore hands-on:
On the front, there's a 2-megapixel camera, with an 8-megapixel camera on the back; both can shoot 1080p Full HD video. Two microphones – with beam-forming for background noise reduction in Skype – are on the top, and there's integrated GPS too.
Toshiba tells us that battery life hasn't been finalized yet, but should be somewhere in the region of seven hours. There's InstantGo support too, which means the Encore can keep pulling in new email and such even when it's in standby mode.
Clicking into the Windows 8.1 desktop still looks a little strange on an 8-inch screen, but the Toshiba is surprisingly usable: the on-screen keyboard is actually well scaled for your fingers, though it does dominate the real-estate on offer. Of course, you can also pair up a Bluetooth keyboard and mouse if you want to do more serious text input; Toshiba preloads Microsoft Office Home & Student 2013, with full copies of Word, PowerPoint, and OneNote.
Most challenging for Acer is the Encore's price, with the slate expected to come in at $329 when it arrives later this year.