Toshiba Chromebook 2 update brings more powerful hardware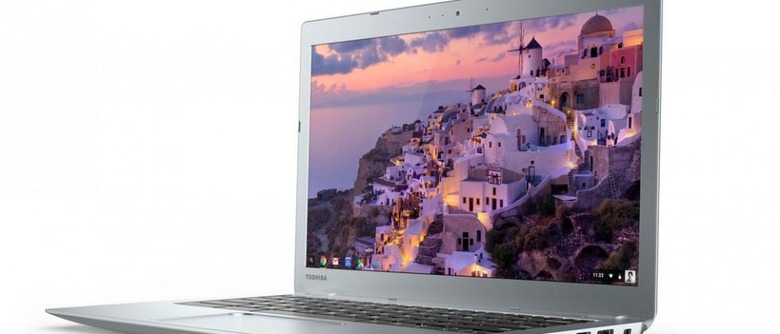 On Tuesday, Toshiba introduced an update to its Chromebook 2 laptop. The updated model comes with better performance, says Toshiba, as well as updated hardware options including a new LED backlit keyboard and Intel processors. The new model is better poised to meet the needs of users who are putting their Chromebooks to task — those who use the machines for productivity work and other things more demanding than the original spat of Chromebooks could handle.
The new Toshiba Chromebook 2 can be had with fifth-generation Intel Core i3 or a Celeron processor, says Toshiba, alongside 4GB of RAM. In addition to the new LED backlit keyboard, the new Chromebook also features a 13.3 inch Full HD 1920 x 1080 IPS display; the colors are said to be more accurate and sharper than the past model.
The display size doesn't mean a heavy body, however, as Toshiba says the laptop is made with a 12 inch body at the light weight of 2.9 lbs. Entertainment aspects of the laptop have been improved, as well – the new model has front-facing speakers offered in conjunction with audio company Skullcandy. There's also an integrated dual-array microphones and an HD webcam.
Connectivity spans the range most users require, including an SD card slot, security lock, a single USB 3.0 port and a USB 2.0 port, HDMI output, and 802.11ac WiFi. As with other Chromebooks, the new machine comes with 100GB of Google Drive storage space; there's also three months of unlimited Google Play music streaming, and a dozen passes to use GoGo's Internet.
The new Chromebook 2 will be available next month with a starting price of $329.99 USD.