Toshiba Canvio 3.0 portable HDDs get USB 3.0 update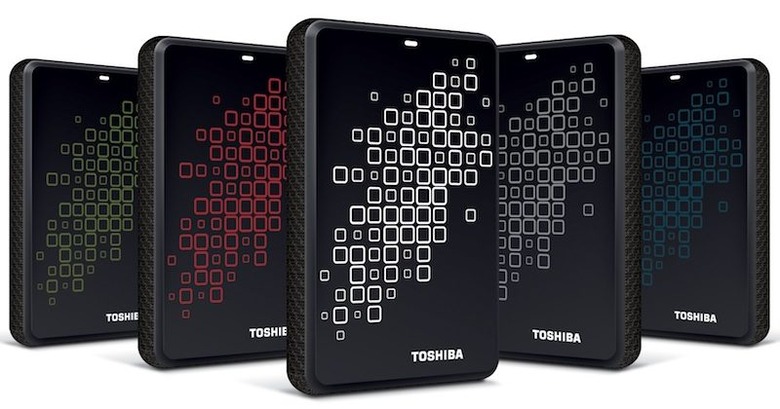 Toshiba is the latest firm to jump into the USB 3.0 external storage market, introducing the Toshiba Canvio 3.0 with capacities ranging from 500GB to 1TB.  As we've seen with rival models, there's not a huge amount differentiating the Canvio 3.0 from previous USB 2.0 versions, beyond the faster, SuperSpeed interface.
Still, if you're storing big chunks of data and your computer has a USB 3.0 port, you may as well shuffle those gigabytes at a faster rate.  Toshiba also preload NTI BackupNow EZ, which offers PC owners (though not those with Macs) various backup options, together with 256-bit encryption and various shock sensors and other monitoring tools.
So far, so speedy and capacious.  The Toshiba Canvio 3.0 range is available now, priced at $119.99 for the 500GB, $129.99 for the 750GB and $179.99 for the 1TB.  That's pretty much in line with Iomega's USB 3.0 HDD range.
Press Release:
TOSHIBA UNVEILS CANVIO™ 3.0 PORTABLE HARD DRIVES WITH SUPERSPEED USB 3.0 INTERFACE

Canvio™ 3.0 Delivers Up to 10x the Speed for the Same Price as USB 2.0 Drives

IRVINE, Calif., September 28, 2010 – With the ever-increasing demands of digital media, Toshiba introduces the Canvio™ 3.0 portable hard disk drive (HDD) featuring a SuperSpeed USB 3.0 interface. For the same price as competing USB 2.0 drives, Canvio 3.0 drives offer blazing fast file transfers at up to 10 times the speed of USB 2.0 drives. Available in storage capacities of 500 gigabytes (GB1), 750GB or one terabyte (TB1), Canvio 3.0 drives feature simple plug-and-play operation, pre-loaded backup software, and backward compatibility with personal computers and other devices equipped with USB 2.0 ports.

"Power digital consumers, and even typical PC users, are storing high definition video content, high resolution digital images, and multi-gigabyte music collections. When you consider that a single HD video can easily be three times the size of the same video in standard definition, it's easy to see why file transfer speeds are just as important as storage capacity," said Manuel Camarena, product manager for consumer storage at Toshiba Storage Device Division. "With the integration of the USB 3.0 interface, Canvio 3.0 drives significantly improve file transfer performance for large media files and dramatically minimize the wait time for backup and recovery processes."

Building on the success of its current Canvio Portable Hard Drive product family, Canvio 3.0 drives feature the same easy-to-use features users have come to expect from Toshiba portable hard drives. Windows™-based NTI® BackupNow EZ™ software provides step-by-step and fully-customizable backup capabilities, including the option to backup specific folders, certain file types, and conduct a system backup. The software can also restore the entire system if Windows is unable to start. In addition, complete password-protection with up to 256-bit data encryption prevents unauthorized access to data and a special Drive Space Alert monitor sends an onscreen update when storage space is running low. On the inside, an Internal Shock Sensor and Ramp Loading Technology keep data safe during day-to-day movement from a desk, pocket, bag, or beyond.

The stylish Canvio 3.0 product line also continues Toshiba's high quality industrial design, including its pocket-sized, rounded rectangular form factor with rubberized edges and high gloss black finish with red, green, blue, white, or silver graphical accents. The focus on design extends even to Toshiba's environmental efforts. The Canvio 3.0 product maintains the same dimensions as previous Canvio products which are 25 percent smaller2, reduce the quantity of materials used in production, and feature product packaging using 100 percent recyclable materials.

Toshiba's Canvio 3.0 Portable Hard Drives and the complete lineup of Canvio Portable Hard Drives may be found at major retailers within North America and online outlets. For a full list of retailers, please visit www.wheretobuy.toshibastorage.com.

Estimated Single Unit Prices (USD) by capacities are:

· $119.99 for the 500GB Canvio 3.0

· $129.99 for the 750GB Canvio 3.0

· $179.99 for the 1TB Canvio 3.0