Toshiba Camileo X-Sports Sportscam Hands-On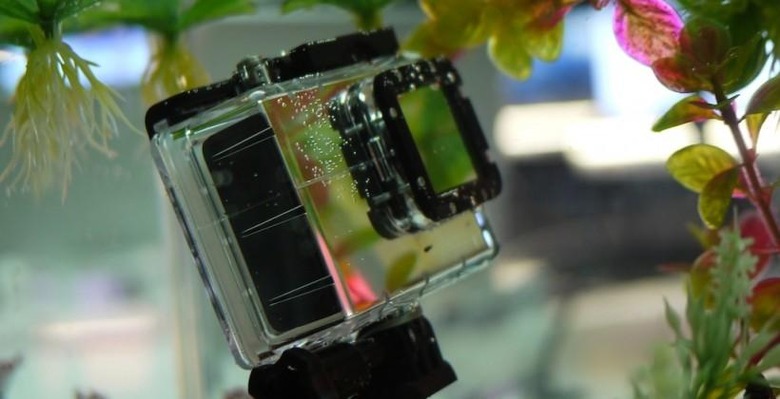 Toshiba is wading into the increasingly crowded sportscam market, taking on GoPro and Contour with the Toshiba Camileo X-Sports. Fresh to IFA 2013 today, the Camileo X-Sports packs a 12-megapixel camera with Full HD 1080/60p video recording, and an built-in 2.0-inch preview display on the back; it also bears a striking resemblance to GoPro's Hero range, though Toshiba plans to include more accessories and mounts in the box than Hero does.
The 12MP sensor is paired with an ultra-wide angle lens and 10x digital zoom, and there's digital image stabilization. Connectivity includes microUSB and mini-HDMI, along with a microSD/SDHC/SDXC card slot, but Toshiba also squeezed in WiFi b/g/n.
That wireless works with Toshiba's WiFi Connect app for Android and iOS, which allows remote control of the Camilieo X-Sports, remote browsing and transfer of video and photos to your device, and use as a wireless viewfinder.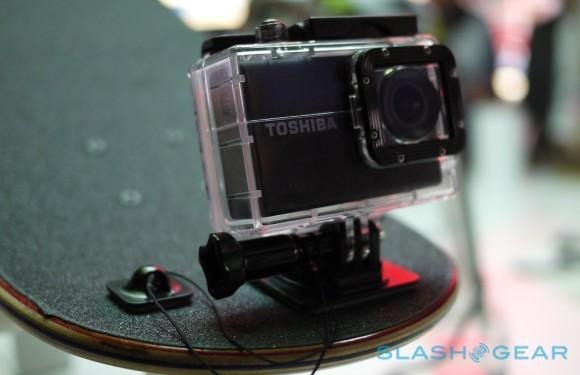 Photos can be taken in burst mode or in tandem with video recording, and there's timelapse photography along with looping video recording. The 73 x 49.5 x 29.5 mm, 94g (excluding the battery) casing is boxy but feels solid, and is bump-proof in case you want to use it caseless; there's a standard tripod mounting screw underneath.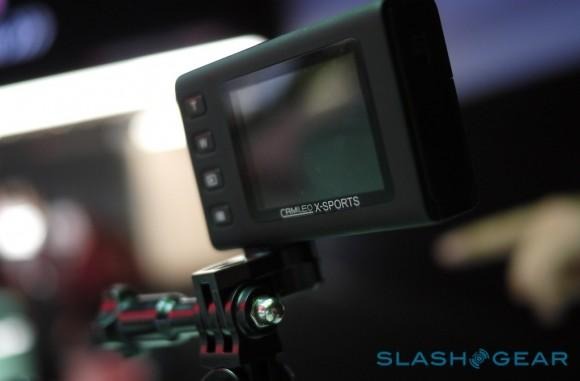 Of course, most people will want to coddle it in a case, and Toshiba is eschewing the usual sportscam trend of charging extra for each piece, and instead includes nearly all of the optional accessories in the box. There's a waterproof casing (up to 60m) and a flat clip mount, both flat and curved adhesive mounts, a side mount, bike mount for handlebars or frames, a vented helmet mount, a surfboard mount, and a tripod mount.
Toshiba also includes a wireless remote with big buttons, that can be strapped to a wrist or around the arm of a sports jacket. Optionally, there's a long clip mount, a head strap mount, and a chest strap.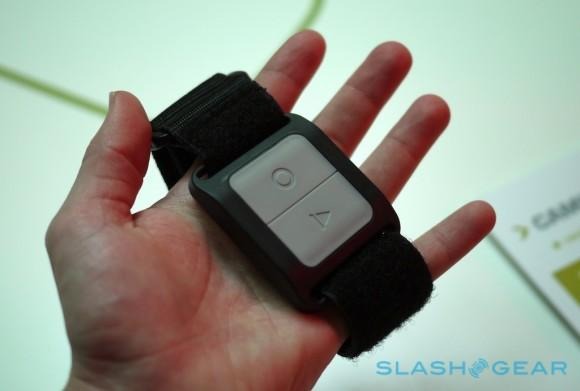 Despite the similarities with GoPro's range – both between the Hero and the X-Sports camera itself, and the mounting/case options – Toshiba tells us that the camera has been completely independently designed. We're not clear on whether the mounting kits for the two will be inter-compatible, though they certainly look much the same.
Still, Toshiba has put together an impressive bundle, and could help set the Camileo apart from the rest of the segment. The X-Sports will go on sale in Europe at €249 ($328) sometime during Q4 2013; Toshiba tells us that a US release is yet to be decided upon.