Toshiba Camileo S10 Ducati camcorder breaks cover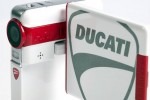 Some of the coolest vehicles to ever roll the highways come from Italy. We have brands like Ferrari and Lamborghini doing Italy proud on four wheels and on two wheels, Italy gives us superbike maker Ducati. We have seen the Ferrari and Lamborghini logos on notebooks before, and now the Ducati logo is making its way to a camcorder.
Toshiba and Ducati have a partnership going that has seen the electronics maker unveil the U500 notebook in Ducati colors recently and now Toshiba has whipped out the small Camileo S10 Ducati edition camcorder. The little camcorder is mostly white and has red accents along with the Ducati logo on the LCD lid.
That LCD is a 2.5-inch unit and the camera can record video in 1080p resolution. The camera's sensor is a 5MP job and video is saved to a 4GB memory card good for up to 60 minutes of recording. Measurements of the camcorder are 18 x 57 x 100mm and it weighs 120 grams. Pricing is unannounced, but expect the Ducati logo to command a premium.
[via New Launches]