Toshiba AT300 Tegra 3 ICS tablet gets official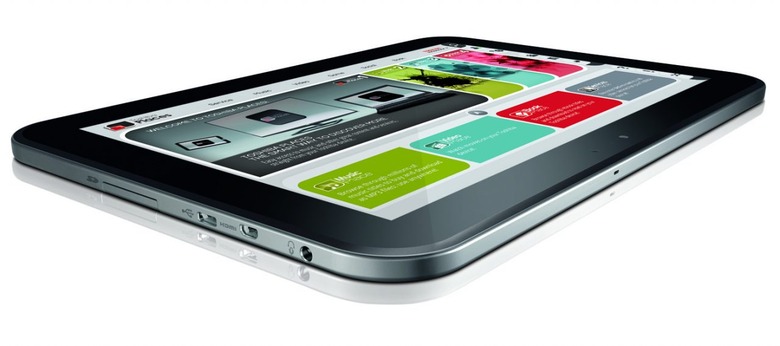 Toshiba has outed its latest Android tablet, the AT300, a 10.1-inch iPad rival running Ice Cream Sandwich on NVIDIA's quadcore Tegra 3 chipset and promising up to 10hrs runtime. Measuring 8.95mm thick and wrapping its guts in an aluminum shell with a splash of Gorilla Glass up front, the AT300 also has a pair of cameras, with a 2-megapixel front-facer and a 5-megapixel main camera on the back.
Connectivity includes WiFi b/g/n and Bluetooth 3.0 along with a full-sized SD card slot capable of handling SDHC/and SDXC memory cards. That could make the AT300 a useful pair for a high-speed DSLR. There's also a combo audio in/out port, a microUSB and a micro HDMI output, along with a pair of 1W speakers with SRS audio.
Storage is either 16GB or 32GB, and the Tegra 3 is paired with 1GB of DDR3 memory. There's an eMMC card slot for up to 64GB of exta memory, too, while the display runs at 1280 x 800 resolution and supports 10-finger multitouch.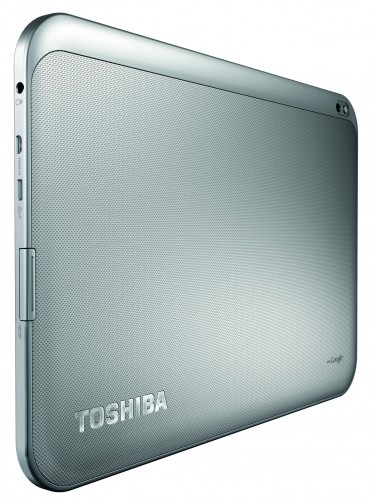 Toshiba reckons that the AT300 will last for 10hrs solidly playing video, or up to 12hrs if used for 10-percent audio playback (with the screen off), 60-percent web browsing over WiFi, 10-percent video playback and the rest of the time in standby. Measuring in at 260.6 x 178.9 x 8.95 mm and weighing 590g, the AT300 will arrive later in Q2 2012, with pricing yet to be confirmed.