Toshiba AL13SE 2.5" HDD offers 900GB at 10,500RPM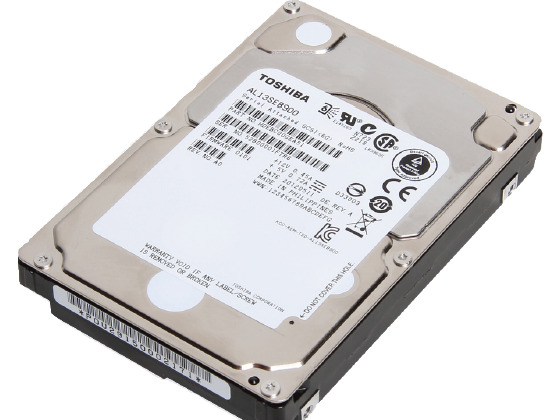 Western Digital has produced 2.5-inch hard drives capable of 10,000 RPM speeds in the past, but capacities have often been limited. Toshiba is hoping to push ahead in the quest for fast speeds and roomy drives with the introduction of a 900GB hard drive with a 10,500RPM spin speed. That's not the only capacity available either, with 300GB, 450GB, and 600GB versions also up for grabs.
Just like the old drives, you won't be able to stick these in your laptop thanks to the 15mm thickness. Toshiba is including a 3.5-inch bracket so you can mount the drives into your desktop computer, with the company saying the drives are ideal for server use. Average seek time for the drives is 3.7ms, and write is 4.1ms. The drive is equipped with a SAS 2.0 6Gbit/s interface and a 64MB buffer for the best transfer speeds possible.
Unfortunately, Toshiba hasn't mentioned exactly what the drives will cost, or when eager customers can get their hands on them. Judging from the interface and capacity, we can't imagine them being cheap, so maybe start saving now just in case. All the nitty gritty details can be found on Toshiba's website in the meantime.
[via Engadget]