Toshiba AC100-114 Android 2.1 netbook with Tegra tipped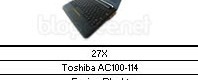 You'll want to squint at this picture, because you're looking at one of the more tempting netbooks we've seen of late.  According to Blogeee's source, this is the Toshiba AC100-114, a 10.1-inch netbook with NVIDIA's Tegra T20 GPU and an HDMI port.  However, rather than Windows 7 or XP, the Toshiba AC100-114 runs Google's Android 2.1 OS.
Toshiba haven't been especially forthcoming before now on their Android netbook plans, though earlier this year they did confirm that they were looking at the open-source OS for a 10-inch tablet also using NVIDIA's Tegra chipset.  The AC100-114 packs 512MB of RAM and a 16GB SSD, as well as an SDHC card reader, WiFI b/g/n and 10/100 ethernet.
The whole thing measures in at 26.2 x 18.9 x 1.4-2.1 cm and weighs 0.9kg with a 3-cell, 2,200mAh battery; Toshiba reckon that's enough for 4-5 hours of runtime, which seems on the low side to us.  Thanks to that Tegra GPU 1080p HD is a possibility, though.  No word on pricing or availability at this stage.