Toshiba 512GB SSD Announced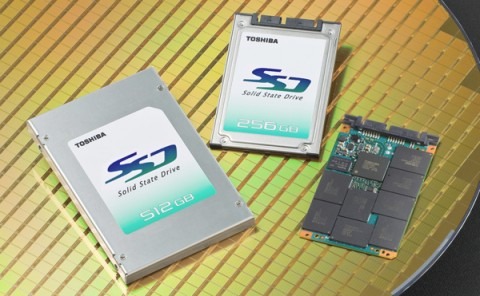 Toshiba have unveiled the storage industry's first 512GB SSD, which uses 43nm MLC NAND memory to fit into a standard 2.5-inch drive casing.  The drive – along with a range of other high-performance SSDs from the company – will begin sampling in Q1 2009, with mass production expected in Q2. 
Toshiba have also announced 64GB, 128GB and 256GB SSDs, available in 1.8-inch and 2.5-inch sizes.  These use the same memory type as the 512GB model, with a 3Gbps SATA-II connection, maximum read speed of 240Mbps and maximum write speed of 200Mbps.  SSD Flash modules will also be available at the same time and in the same three capacities, suitable for smaller form-factor installations.
No cost details for the new drives have been given, but expect them to command premium prices when they start arriving as options in new notebooks and netbooks.  The drives will go on show at CES 2009 in January.