Toshiba 2.5-inch 500GB has highest areal density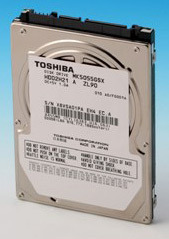 The releases include family of six models ranging from 120GB to 500GB spins at 5400RPM with 8MB cache, SATA II interface and 12ms average seek time. The 320GB, 400GB and 500GB models are two-platter designed while that's only one in 120GB, 160GB and 250GB models.
In additional to larger storage size, the new units are acoustically improved with quiet operations and consumed 20% less power than previous models at the expense of lesser rotation speed.
Toshiba will showcase the new drives devices in CES 2008 and mass production is said to begin in December this year.