TORQ N100 GPS PDA Phone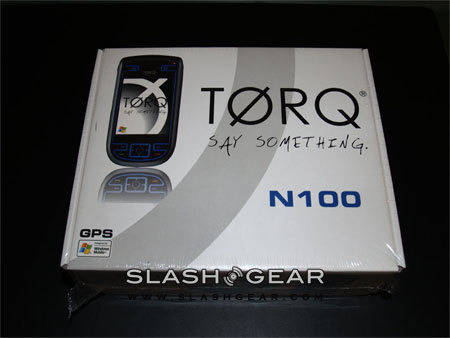 The TORQ N100 is a sweet device! I just loaded it up with ALK's CoPilot Live 6. Please check back a few days for a video walk through review of the the GPS on the TORQ as well as a CoPilot Live 6. Meanwhile, enjoy my initial thoughts and impressions as well as the unboxing ceremony.TORQ N100
Smartphones have become all the rage lately; with the ability to store schedules, write emails, browse the Internet, and a host of features, many business professionals have turned to these devices to always keep connected while on the go. We've looked at a number of these phones recently – the Treo 700p most recently – but now we're presented with a new smartphone for your viewing pleasure: the TORQ N100. Designed to do everything you could possibly need a mobile phone for, the N100 is an impressive device that combines a host of features with impressive power and performance.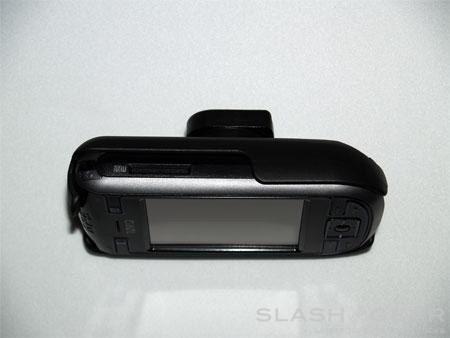 The N100 contains a Samsung S3C 2440 processor clocked @ 400 MHz, 128 MB of Flash ROM, and 64 MB of internal RAM. Measuring 4.7" x 2.4" x 0.9", and weighing 6.6 oz, the device is a little on the large side and, while it is comfortable enough to hold with one hand, it's slightly awkward to try and carry in your pocket. Realizing this, the developers had the foresight to include a stylish leather belt case to carry the device. The N100 also features a crisp 2.8" QVGA display (240 x 240 pixels) that's very clear and pleasant to use; this screen, like most Pocket PCs, has an overlaid touchscreen that allows the user to use the included telescoping stylus as a mouse of sorts. The screen can be rotated 90 degrees at the push of a button to allow the user to optimize the screen's real estate to their tastes.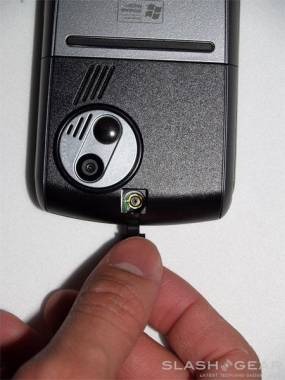 The features don't end there. TORQ's new device also features a 1.3 megapixel camera capable of video capture; the camera is capable of taking photos as large as 1280 x 960 and video up to 320 x 240 in 3GP standard video. The device also sports a miniSD memory card slot for expanded storage, allowing users to expand the internal storage many times over. Finally, the N100 sports Bluetooth 2.0 compatibility, allowing users to connect to headsets and other devices wirelessly. These features and their respective settings are accessible via a very friendly interface that clearly lays out options, making the learning curve on the device much lower than it would be otherwise.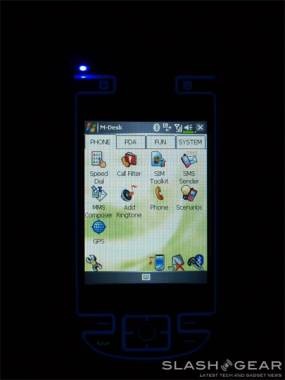 All of this is running on top of Microsoft's latest mobile operating system, Windows Mobile 5.0. The general interface will seem very familiar to anyone who has used Windows in the last ten years or so, and should be easily navigable to most users. As such, the phone comes with a full-fledged web browser, Internet Explorer, though the lack of EDGE support (Enhanced Data Rates for GSM Evolution) means that you'll be browsing the Internet via GPRS, an older and slower standard. The N100 also comes with Microsoft's Pocket MSN bundle, which includes MSN Messenger for instant messaging and MSN Hotmail for emails.
The most impressive feature on the N100, however, is the built-in GPS receiver. While the device doesn't come with GPS software, such software is easily attainable from a number of vendors. This receiver is the latest iteration of the SIRF III chipset, which boasts lower power usage, faster error correction, and higher sensitivity when compared to its predecessors; the SIRF III allowing for 200,000 correlations when only a few thousand had ever been possible before. The GPS receiver, therefore, is capable of operating in environments that are typically not friendly to wireless devices, such as mountainous areas and indoor environments. The battery life does shorten when using the GPS receiver to about 2.5 hours, down from 4 hours of talk time, 8 days on standby, and 10-15 hours when used as a PDA.
The device includes a number of other features as well, including multimedia playback via Windows Media Player 10 Mobile, Mobile Office (mobile versions of Microsoft Excel, Word, and Powerpoint), picture/video editing software, Notepad, M-Desk (a substitute interface for Pocket PCs), and dial-up networking capabilities. As for phone capabilities, the N100 features the usual phone book capabilities – allowing users to store contacts' name, picture/ringer ID, work number, home number, etc. – as well as Personal Information Management (PIM) applications (calendar, task lists, etc.), voice dialing, speed dialing, and speakerphone. One thing we noticed was that using the phone book was a bit tricky; unless you're used to operating programs like Outlook, you might find a bit of a learning curve in using this feature.
The TORQ N100 is, overall, a very solid phone, and a great tool to have if you're driving long distances. The Windows Mobile 5.0 interface is easy to use, but the lack of a wireless broadband option hurts this phone if you plan on doing a good deal of web browsing, especially considering that the phone lacks a Wi-Fi card. Still, if you're looking for a phone with good multimedia and PIM capabilities, as well as an impressive GPS receiver, then the N100 might just be what you've been looking for.
Unboxing the TORQ N100