Toradex Robin: Atom CPU on credit card sized mainboard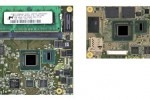 Toradex have begun sampling their latest COM Express module, just 84 x 55mm in size, which uses Intel's Z5xx Atom processor range.  The Toradex Robin (shown here on the right, to scale – but not actual size – with its Toradex Woodpecker sibling, announced last year) has seven USB 2.0, gigabit ethernet, a microSD slot and a SATA connection, and is suitable for highly-compact embedded applications.
The Robin will be available with either the Atom 1.1GHz Z510 processor or the 1.6GHz Z530 processor, the former having a 400MHz FSB and 1GB of onboard storage and the latter with a 533MHz FSB, 2GB of storage and hyper-threading support.  While the Z530 is the obvious choice for speed, the Z510 Robin fights back with its super-frugal power demands: just 3.5 to 5 Watts.  Saying that, the Z530 Robin isn't exactly a hog, using from 5.1 to 7.6 Watts.
Each comes with 512MB of soldered-on RAM and can support up to a 1366 x 768 external display over VGA.  Other connections include one PCIe, ExpressCard, a TV output and HD audio.  These look like incredible boards offering plenty of DIY scope; they're priced at €129 ($163) for the Z510 Robin and €179 ($227) for the Z530 Robin.
[via Linux Devices]