Top Facebook Live Videos show up in 'Trending' box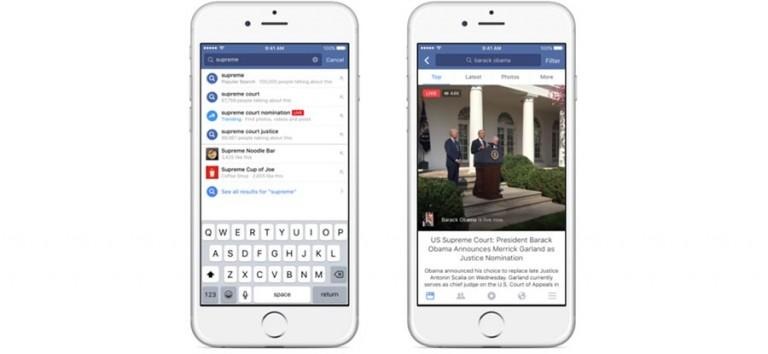 Facebook has added yet another feature for Live Video, this one making it easier to find live broadcasts using search. The social network has updated its search feature, adding (when relevant) Live Videos to search results with a bright red "LIVE" flag next to them. These "LIVE" videos also show up in the 'Trending' box on users' timelines, assuming the video itself is trending on the social network. Also inbound is a newly built Live Video search experience on mobile.
When you fire up Facebook and type a word or phrase into search, Facebook's results will include any relevant Live Videos, though it seems only trending items will be included in the results. Those same trending items will appear in the "Trending" box on the right-hand side of one's timeline — click on it, and you'll be taken directly to the live broadcast. To start with, Facebook says users should "expect to find Live Video in a small handful of Trending topics for now."
In addition to trending search results, Facebook says it has worked on building a dedicated search experience for Live Videos that'll be showing up in the social network's mobile apps. Using this dedicated search, users will be able to search for anything that tickles their fancy and will get results from among the sure-to-grow library of live videos. The results, though, will be limited to videos that have been shared with you or that are public.
Facebook Live Video, in case you've somehow managed to avoid the feature, is a new tool enabling users to live broadcast video of whatever they happen to be doing, something we've detailed a few times including in our handy guide linked above. Facebook recently added a slew of new features to Live Video yesterday, so if you haven't checked it out recently, take another peek and check out our Facebook tag portal!