Too many memory chips, too few buyers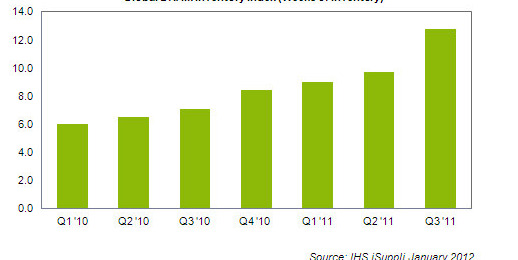 In an already wounded market, those in the business for Dynamic Random Access Memory (DRAM) chips are experiencing more downfalls after research done by IHS iSupply. According to the research, DRAM chips, which are used in products such as personal computers and video game systems, is in a state of oversupply. This has put memory suppliers in a bad state.
It's a buyers market right now if you're looking into RAM upgrades. IHS iSupply uses a "DRAM Inventory Index" to measure the inventory value at the end of a quarter against the sales for the quarter. The index is used to determine the DRAM inventory held by memory suppliers by recording the number of weeks of inventory the market has. At the end of the third quarter of 2011 inventory stood at 12.8 weeks, a 31% increase from 9.8 weeks in the second quarter. This is also extremely higher than the quarterly average of 9.2 weeks. For buyers of RAM this means you can upgrade for cheaper since suppliers are suffering and are forced to lower prices.
Of course there are reasons for this horrendous oversupply. One culprit affecting the market is newer applications, such as tablets. Tablets use lower densities of DRAM and are stunting sales growth of traditional laptops. For those in the market to upgrade your desktop PC or laptop, however, this may come as good news.
[via Allthingsd]