Tonium Pacemaker Pocket DJ Unboxing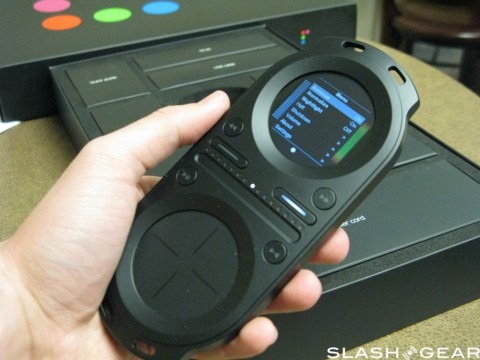 I'll admit, I had no idea what I was getting into when I opened up the Pacemaker. The functionality and the features of the device are astounding. The Pacemaker Pocket DJ system is a 60 GB portable turntable and mixer that allows you to store your music, beats, and mixes on the internal storage, and spin your music on the go. The Pacemaker features the ability to play two tracks side by side, allowing fading and mixing between the two tracks. Cross fading and mixing is an easy task since you can select any two tracks on the device and have one playing while the other is cued up. Whatever track is active will play through the speakers, while you can have the preview of the cued track playing through the headphones.
The Pacemaker is a compact, sleek device that features a beautiful display and easy to learn controls. I'm a music lover and musician myself, but I called in my DJ buddy to come and play with the device and show me some tricks. In just a few minutes, he was mixing and playing tracks off of the Pacemaker. The device is basically a very powerful, very portable DJ station. The audio out allows you to share your creation with others at a performance venue, or you can even publish your mixes online through the included Pacemaker song editor software. The functionality of this device so far is astounding. Tone modification, treble reducing, beat matching, and any other song-mixing function you can think of are all features of the Pacemaker.
Set up was a breeze, and in no time, I was being assaulted by trance beats and heavy bass. The Pacemaker is $499.00 out in the US now, and it includes all the fixings you'll need to get started: cables, chargers and quick start guides. All you need to bring to the table is something better than the 30-second previews of techno songs you got off of iTunes and a pair of cans to hear your creations. I'll be playing with the Pacemaker more in the coming days, and will have a full review for you soon.
[vms b38b23cc967316c13dae]