TomTom unveils XL 340S Live GPS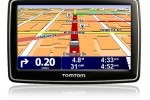 TomTom has unveiled its latest GPS device called the XL340S Live. The GPS has local search features that are powered by search giant Google along with millions of pre-installed points of interest. Connectivity for the new GPS device is backed by the AT&T network.
The connectivity allows the GPS device to access real-time traffic information, TomTom Fuel Price Service, TomTom Weather, and QuickGPSfix. The devices uses TomTom exclusive IQ Routes technology to route drivers based on historical speed measurements for a particular path at the given time of day the driver is traveling.
IQ Routes can also receive real-time traffic speed and accident information reports every two to five minutes. Traffic delays along a route give an audible warning and are displayed on the screen. Three months of wireless, service is included with the purchase of the device and the XL 340S Live is priced at $299.95.