TomTom GO I-90 dash-integrated PND promises "infotainment"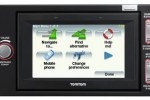 Guaranteed to strike fear into the hearts of English-lovers everywhere, TomTom's GO I-90 PND promises navigation "infotainment" with a double-DIN chassis and removable touchscreen slate.  Intended to curtail the rush of buyers from PNDs to smartphone navigation apps, TomTom's latest replaces your existing in-car audio head-unit with a combination entertainment system and turn-by-turn direction system.
Behind the slabbish facade lies a 4 x 40W amplifier, FM and AM radios (with RDS), a TMC traffic status receiver and the ability to connect up to your car's existing steering wheel controls.  The PND functionality includes just about everything you might expect from a high-end TomTom system, so you get mapping of Western Europe, safety alerts for traffic cameras, Map Share for updated topography, hands-free calling (though it's unclear whether Bluetooth is integrated) and enhanced positioning so the GO I-90 can track your location even in GPS blackspots such as tunnels.
There's also a USB port, for hooking up an iPod or other MP3 player, and text-to-speech for directions and road names.  Once you're at your destination you can pop out the touchscreen section and continue to use it as a standalone PND.  The TomTom GO I-90 will arrive in Europe come December, priced at €499 ($747) excluding installation costs.
Press Release:
TomTom Unveils Integrated Navigation Infotainment Solution

~ TomTom GO I-90 Double DIN Solution Brings Integrated Navigation to All Cars ~

AMSTERDAM–(BUSINESS WIRE)–The TomTom (AEX:TOM2) GO I-90 doesn't stop at navigation – it's a double DIN navigation and radio solution, integrating world-class navigation and in-car infotainment for all types of cars.

Traditionally, integrated navigation solutions come pre-fitted in new cars. This leaves little opportunity for those who want integrated navigation, but don't intend to buy a new car.

The all-in-one TomTom GO I-90 solution can be fitted into any car, so even those with older car models can have an integrated navigation experience. It also offers consumers all the advantages of easy-to-use portable navigation, yet fits seamlessly into a vehicle dashboard. The device provides full radio integration with the car speakers for high quality audio when using spoken instructions, or making hands-free phone calls. Although the full solution is integrated, the navigation device is totally portable so it can be removed from where it sits in the audio system to be used in other cars*.

"We are proud to further expand the footprint of our automotive products, using our experience in the embedded market to deliver the products people want, through various channels," said Giles Shrimpton, TomTom's Managing Director AUTO. "This is another example of TomTom's strategy to deliver a high quality navigation solution to users; however they want to use it."

Well-known TomTom features are included for a premium navigation experience. Such as TomTom Map Share™ — allowing users to make instant changes to the map and share these with others through TomTom HOME and Safety Alerts — enabling drivers to save on speeding tickets and drive safer. Drivers can also easily update their device and their map, which is a unique feature among traditional integrated navigation solutions.

The device, which comes with maps of Western Europe pre-installed, also has hands-free calling, so drivers can make calls safely while driving.

Availability

The device will be available to buy through '12V' specialist retailers throughout Europe from December 2009.

The device will cost Є599 (excluding installation cost)**. TomTom recommends the system be installed by a professional dealer.

Notes for editors

Among its many features, the new GO I-90 boasts the following:

Pre-installed map of Western Europe***.

TomTom Map Share™ technology – so drivers get daily map changes from the TomTom community.

TomTom Safety Alerts, including safety cameras.

Enhanced Positioning Technology – for uninterrupted navigation, even in tunnels.

Improved hands-free calling – so drivers can make and answer phone calls safely while driving.

Help-Me! emergency menu – local information to get help quickly.

Optional iPod support – optimal support for iPod playback and iPod charging.

Extensive phone compatibility.

Optimised TMC reception through the car's antenna.

Latest map guarantee.

TomTom HOME desktop software for everything a driver needs to keep the device up to date.

Address speech recognition and text-to-speech.

USB connection for MP3/I-pod.

Radio features

Amplifier (4 x 40 WATT).

FM reception.

RDS support for PS, AF, TA.

AM reception (LW and MW).

Built in TMC receiver.

Ready for steering wheel control (3rd party accessory).

Connectors to car and outside world (GPS, USB, iPod).

2 DIN box.

No CD drive.

- END –

* Best used with dedicated travel kit which can be found on www.tomtom.com

** Non-euro pricing will be unveiled shortly

*** Andorra, Austria, Belgium, Denmark, Finland, France, Germany, Gibraltar, Ireland, Italy, Liechtenstein, Luxemburg, Monaco, Netherlands, Norway, Portugal, San Marino, Spain, Sweden, Switzerland, United Kingdom and Vatican City