Tivoli Audio NetWorks luxury wooden WiFi radios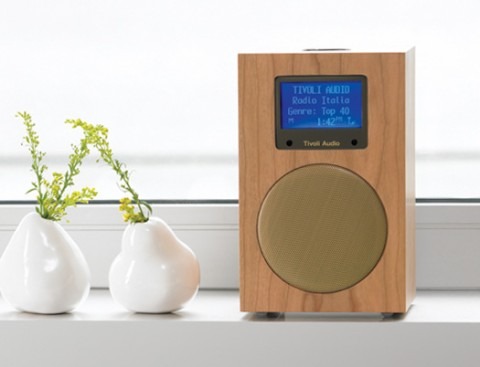 Tivoli Audio have announced a new range of WiFi radios, available with or without digital FM tuners and in mono or stereo setups.  The wooden NetWorks radios connect via your wireless network and can either stream internet radio stations or music stored on a networked computer or hard-drive.
Tivoli Audio NetWorks demo video after the cut
There's also a USB port to plug in your PMP and play music directly from that.  The radio automatically updates its own firmware, and has a display and remote control to navigate through channels and tracks.  An ambient light sensor adjusts the blue backlighting, and the AC adapter is built into the casing rather than external.
Three wood finishes are available – Walnut, Cherry and Wenge – and each can be had as a single mono unit or as a stereo pair. The second speaker can be added to mono systems at a later date, and each has an optional FM radio tuner. DAB will also be offered in areas with the service. The Tivoli Audio NetWorks mono WiFi radio starts at $599.99; the FM version is $649.99. Meanwhile the stereo model is $699.99, with the FM version at $749.99.
Press Release:
TIVOLI AUDIO 'NETWORKS' POINTS THE WAY TO THE FUTURE OF HOME AUDIO

- NetWorks is a Breakthrough WiFi Audio System That Can Play Any Radio Station, Anywhere in the World, or Music from a Computer in Any Room in the House -

Las Vegas, NV, 2009 International CES, January 8-11 – – When Tivoli Audio CEO Tom DeVesto and his team of engineers set out to create the next generation of home audio, they began with a simple question: What would the ideal home audio device do? The new Tivoli Audio NetWorks global audio device is the answer to that question. Taking advantage of broadcasting over the Internet, NetWorks delivers crystal-clear reception of thousands of free radio stations, near or far, without the need for a computer. NetWorks allows listeners to tune in to Italian Opera from Milan, rock music from New York City, or Rugby from Australia, any specialty, niche radio station from any location in the world in its native language, and in real time. It also allows access to music stored on PCs from any room in the house through a wireless or Ethernet connection. NetWorks features Tivoli Audio-quality sound as a stand-alone unit, but can be expanded with a stereo speaker, CD player, or subwoofer. And the NetWorks audio system builds upon Tivoli Audio's reputation as a design leader, offering a choice of furniture-quality hardwood cabinets in Cherry, Walnut or Wenge. The result is an elegantly simple, beautifully designed, yet technologically-advanced NetWorks that points to the future of home audio entertainment.

"It has been our goal to continually bring the most innovative audio devices to market with the quality and high performance that our customers have come to expect from Tivoli Audio," says Tivoli Audio Chairman and CEO Tom DeVesto. "The greatest challenge in designing NetWorks was in making it simple to use. It combines function and design with the ability to deliver the world of radio broadcasts to any room in the home, offering global audio networking that sounds as good as it looks."

Accessing AM and FM stations via a Wi-Fi or Ethernet broadband connection, NetWorks connects to thousands of free radio stations worldwide. It easily searches for stations by country, genre, or a station's call letters. It is also one of the first audio products that is automatically upgradeable to keep continuous pace with rapidly changing technology. NetWorks comes with five pre-sets, but through its exclusive Global Portal can add an unlimited number of Internet stations that can be stored to a "Favorites" list. These would include many HD Multi-cast and DAB stations, previously only available

from expensive HD or dedicated DAB receivers. Enter the Global Portal online at www.networks.tivoliaudio.com to add any radio station, chat with a NetWorks community, get the latest NetWorks news, and receive technical help electronically or live from audio experts.

NetWorks is available with or without a digital FM tuner with RDS (where available) to provide continual service when Internet service is unavailable.

NetWorks even has the ability to stream music files from a computer via an Ethernet or Wi-Fi connection. NetWorks is compatible with most of today's popular music formats, including MP3, WMA, and Real Audio. Also included is a USB input to connect a compatible MP3 player or memory stick. Additional features include a virtual analog clock, dual independent alarms with sleep timer and snooze function, compact remote control, and easy-to-read four-line by 16 character back-lighted display.

NetWorks employs a full-range 3.5" magnetically shielded driver capable of high quality audio reproduction. For true stereo sound, NetWorks provides a right channel output for the matching NetWorks Speaker, sold separately. A matching CD player and subwoofer are available. As a music system, NetWorks includes stereo headphone, record and subwoofer outputs, and auxiliary and mixing inputs for use with other audio equipment or a computer.

"In keeping with Tivoli Audio's design philosophy, NetWorks is very easy to use – simply access the Internet and start listening. You don't have to be a computer expert or even need a computer to operate it," adds Mr. DeVesto. "It is plug and play at its most advanced level."

Other notable features include an adjustable Equalizer and SuperBuffer, developed exclusively by Tivoli Audio to extend the standard buffer time and virtually eliminate Internet radio station dropouts.

The new Tivoli Audio NetWorks Global Audio System measures 5.51"W x 8.74"H x 5.12"D and comes in Walnut, Cherry, and Wenge furniture-grade wood finishes with gold-toned speaker grille. The NetWorks Global Audio System may be ordered direct by calling toll-free at 1-877-297-9479 or visiting the company's Web site at www.tivoliaudio.com. The retail price starts at $600 for the basic NetWorks, the FM and DAB versions will cost slightly more.

Tivoli Audio NetWorks Global Audio System was selected as an Innovations 2009 Design and Engineering Award honoree in the Audio Components product category by the Consumer Electronics Association.

Tivoli Audio was founded in 2000 with the goal of bringing beautifully designed, simple-to-use, high-quality audio products to the consumer. Started by Tom DeVesto, a highly respected and long-established designer and leader in the audio industry, Tivoli Audio marks the most recent chapter in Mr. DeVesto's career. Tivoli Audio has brought some of the most innovative, highly-acclaimed audio products to market including Model Satellite, the world's first Sirius table radio for home use, Model One AM/FM Table Radio, Portable Audio Laboratory (PAL), RadioCombo complete stereo system, iSongBook and iYiYi complete music systems with universal docking system for all Apple iPod models, and Music System, perhaps the world's best all-in-one stereo system. Tivoli Audio manufactures and markets award-winning signature audio products that have not only broken the sound barrier in terms of high fidelity performance, but are produced in a unique range of colors and furniture grade woods to look as good as they sound. Today, Tivoli Audio products are sold in over 50 countries worldwide.