TiVo Slide Remote gives the peanut QWERTY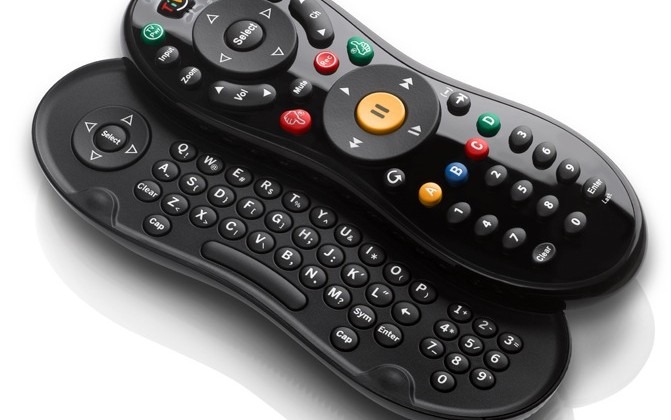 Text-entry on increasingly complex DVRs is getting to be a multi-tapping headache, and it's one that TiVo are hoping to rectify with a little QWERTY keyboard action.  The new TiVo Slide Remote has, as the name suggests, a pull-out QWERTY 'board, hooking up to your TiVo unit via Bluetooth and working with the company's progressive search system.
Progressive search queries across local and TV content, together with YouTube, Amazon Video On Demand and Netflix media.  As for installation, the Slide Remote comes with a USB dongle that plugs into the TiVo Premiere and Premiere XL units, TiVo Series3, TiVo HD or TiVo HD XL units, and then you're good to go.
The regular keys are backlit, and the remote will control your TV and volume as well as the TiVo itself.  The TiVo Slide is on sale today via TiVo's site, and in Best Buy stores from the weekend, priced at $89.99.
Press Release:
TiVo Types in a Winner: Launches New TiVo Slide Remote with Slide-Out Keyboard

"Thumbtastic" Keyboard with Bluetooth Connectivity Lets People Spend More Time Watching and Less Time Searching

ALVISO, Calif. – August 24, 2010 — TiVo Inc. (NASDAQ: TIVO), a leader in advanced television services, including digital video recorders (DVRs), today announced the availability of the TiVo® Slide Remote with an easy to use, slide-out, QWERTY keyboard. The TiVo Slide provides users a richer TiVo experience through the delivery of progressive search in the television, making it easier to find your favorite series or celebrity on TV, YouTube, Netflix, Rhapsody and more.

"This finger-friendly device strengthens TiVo's product offerings, giving consumers the best tools to find what they want more quickly," said Jim Denney, vice president and general manager of product marketing for TiVo. "This is the first ever DVR remote with a full QWERTY keyboard, and we are certain that users will be excited to get their thumbs on it. The slick design has the same fun look of the classic TiVo remote, but makes it even easier to get more from your TV experience."

TiVo was the first to deliver progressive media search and now with its new slide-out QWERTY keyboard, the TiVo Slide Remote allows consumers quickly and easily to find the latest and most relevant entertainment – whether that be via YouTube, Amazon Video On Demand, Netflix and more – all in one place, and all with one box.

The TiVo Slide Remote is an all-in-one remote control for the all-in-one entertainment box. Its Bluetooth technology increases the remote's reliability, and range up to 30 feet away. Its sleek, peanut shaped design is fully backlit, and includes power and volume controls for the TV. And installation is fast with easy plug n' play functionality. Just plug the USB receiver into the port on the TiVo box, and play.

To celebrate its availability, TiVo is giving away one TiVo Slide Remote control each day for 30 days! To enter the 30 Slides in 30 Days Sweepstakes, people must first become a fan of TiVo on Facebook or follow TiVo on Twitter. Fans and followers can then enter the giveaway for one of the thumbtastic prizes at www.tivo.com/30slides. We additionally encourage fans and followers to respond with the name of a favorite TV show, movie or web video – which they will be able to search for oh so much faster with the TiVo Slide.

TiVo Slide is available today at tivo.com for $89.99 and coming this weekend at Best Buy stores nationwide. The new remote will work with TiVo Premiere and Premiere XL units, TiVo Series3, TiVo HD, and TiVo HD XL.

# # #

About TiVo Inc.

Founded in 1997, TiVo Inc. (Nasdaq: TIVO – News) developed the first commercially available digital video recorder (DVR). TiVo offers the TiVo service and TiVo DVRs directly to consumers online at www.tivo.com and through third-party retailers. TiVo also distributes its technology and services through solutions tailored for cable, satellite and broadcasting companies. Since its founding, TiVo has evolved into the ultimate single solution media center by combining its patented DVR technologies and universal cable box capabilities with the ability to aggregate, search, and deliver millions of pieces of broadband, cable, and broadcast content directly to the television. An economical, one-stop-shop for in-home entertainment, TiVo's intuitive functionality and ease of use puts viewers in control by enabling them to effortlessly navigate the best digital entertainment content available through one box, with one remote, and one user interface, delivering the most dynamic user experience on the market today. TiVo also continues to weave itself into the fabric of the media industry by providing interactive advertising solutions and audience research and measurement ratings services to the television industry www.tivo.com

TiVo and the TiVo Logo are trademarks or registered trademarks of TiVo Inc. or its subsidiaries worldwide. © 2010 TiVo Inc. All rights reserved. All other trademarks are the property of their respective owners.