TIVO new User Interface in testing, features Picture in Guide at last!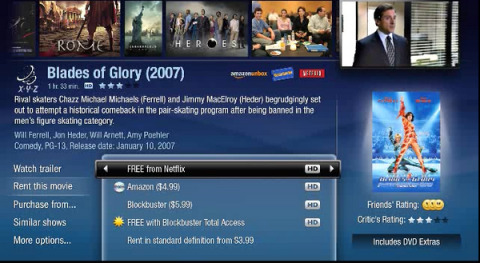 If I were to list one basic feature I've always wanted for my TIVO is an integrate User Interface with Picture in Guide (PIG). Little has changed with its interface over the years, picture is obstructed by grid-style onscreen guide while navigating though user menu to retrieve list of recording show or change settings. Competitors such as DirectTV, Dish Network and Cable service carriers have long offering DVR with PIG. That soon to change; Tivo is cooking up a user interface with a complete new look- Featuring PIG with ability to display picture while peruse user guide.
A consumer survey with focus groups conducted by TIVO has revealed a new user interface is underway. The videos demo shown several new features work conjunction with PIG such as preview trailers, download and search movies from Netflix, Amazon and Blockbuster in SD or HD format. What catch my attention is the Free with Blockbuster Total Access and Netflix options. I would be thrilled if I could use TIVO to access free flicks though my existing services from Blockbuster Total Access.
The development of new user guide may not be that exciting than if Tivo were to release Tru2Way dongle for S3 users. It would certainly help to improve the already highly appraised Tivo Experience.
[gizmodo via Infinite Abyss blog]