TiVo loses support for Blockbuster On Demand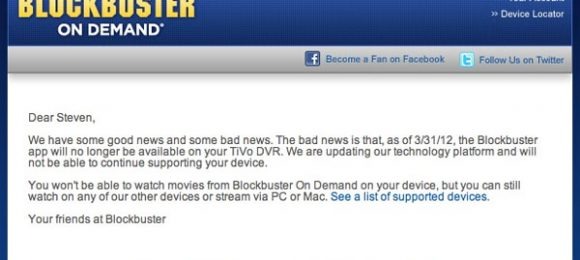 We have some bad news for TiVo owners who enjoy streaming video from Blockbuster On Demand. Blockbuster has announced that it will stop supporting TiVo DVR's on March 31, 2012. You can read the official TiVo statement at the bottom of this post, but in a nutshell, Blockbuster claims it's updating its technology platform and won't be able to support TiVo in the future.
Apparently, the video-on-demand app from Blockbuster is still available on different TiVo models as of now, but the registration page is no longer available on Blockbuster.com. While TiVo is losing Blockbuster support, fans of streaming media do have a couple of things to look forward to on their TiVo DVRs this year. An updated Netflix app is coming for one.
An updated YouTube app is also coming with both of those app updates set for later this year. TiVo is also tipped to be opening a new SDK soon that could result in new apps for TiVo users. Does losing Blockbuster On Demand support make TiVo less attractive to you?
We have some good news and some bad news. The bad news is that, as of 3/31/12, the Blockbuster app will no longer be available on your TiVo DVR. We are updating our technology platform and will not be able to continue supporting your device. You won't be able to watch movies from Blockbuster On Demand on your device, but you can still watch on any of our other devices or stream via PC or Mac.
[
Zatznotfunny]