Tiny Toys Shopping Guide - Nightmare Before Christmas Little Taps And ChoroQ Qsteer R/C Racer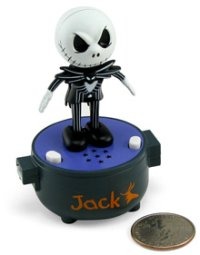 I'm not sure what the worlds obsession is with picturing things next to coins. I get that's small when you use words like little, mini, tiny and micro... no visual necessary, but that's just me. Anyway, here are two tiny toys that are just a bit bigger than a quarter, enjoy.
First up we have Jack from the Nightmare Before Christmas, now he's not the only character this toy comes in but with the season so close he's the featured toy right now. This Little Taps toy will sing and dance to songs from the show and should come across any other Little Taps they all interconnect and will sing and dance together. You can pick up Jack for just $14.99.
Next I offer you the ChoroQ Qsteer Mini R/C Racers. They come in mini version of the Nissan 350Z or the Mazda Rx-8 and also have some precision steering, which is amazing from such a tiny R/C. You'll get a set of two with your $14.99 purchase so you and a friend/co-worker and create your own desktop racetrack to pass the hours.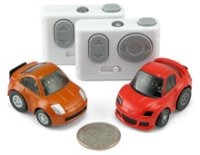 Both of these items are available from ThinkGeek and either would make a great stocking stuffer in my opinion. However, for the price I'd stick with the R/C racers.
Nightmare Before Xmas Little Taps [via Coolest Gadgets]
ChoroQ Qsteer Mini R/C Racers [via Coolest Gadgets]