Tin Can Speakers covered in graffiti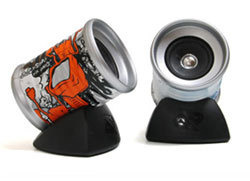 Remember when you were a kid and you'd run a piece of string between two cans and use them like a pair of walkie-talkies? Yes, my parents may have been too cheap to buy us real walkie-talkies, but it still blew my mind as a kid that it actually worked. Well, here's a pair of speakers that will bring back fond memories to anyone that used those as a child.
Not only will the Tin Can speaker set from Boost Mobile bring back fond memories, but it will add a bit of personality to your desk. The "tin cans" designed by Dean Bradley and covered in graffiti by artists Mint and Serf.
Aside from their cool appearance, there's not much else to these. They're your average pair of 5-inch speakers, with several adapters included so they can be used with a variety of gadgets. No word yet on pricing or availability.
Graffiti-covered Tin Can speaker set [via techdigest]