Time Warner Charges $16.4M to man for Sweet 16 coverage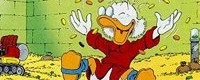 I bet that most basketball fans out there gladly pay a bit extra to be able to get coverage of all their favorite teams during the NCAA Sweet 16 finals. One man paid Time Warner cable for the privilege of watching the games and Time Warner tried to charge him $16.4 million.
Apparently, Daniel DeVirgilio got a notice from Time Warner that his credit card has been declined for a charge of $16,409,107. Time Warner says the number was human error. A spokesperson for Time Warner cable said, "We apologize for the inconvenience that it caused. We are going to work with the customer to get this resolved."
DeVirgilio said that by his numbers he would have needed to watch about 1.6 million PPV movies to rack up that bill. He expects that the issue will be fixed without affecting his credit or his service.
[via Dayton Daily News]