Tim Cook talks Steve Jobs at D10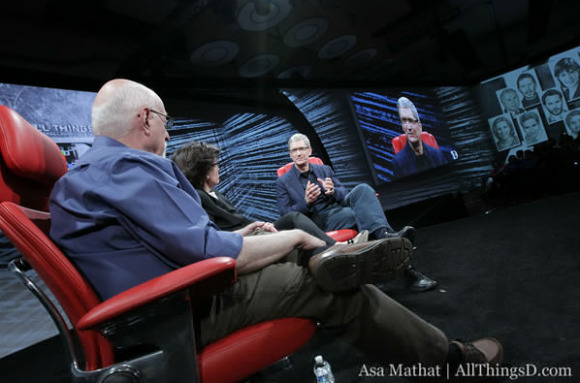 This week at the All Things D conference Apple CEO Tim Cook spoke about his late friend, mentor, and co-worker Steve Jobs. The talk Cook had with Kara Swisher and Walt Mossberg explored many things inside and outside of Apple, but perhaps most importantly he made sure the world knew that he was dedicated to a strong future. When asked how Apple is different with him as CEO, Cook began by saying "I learned a lot from Steve. It was absolutely one of the saddest days of my life when he passed away."
Noting that he learned focus from Jobs first and formost, he let the audience know that it was at some point late last year that some one shook him and told him "it's time to get on. It was at that point that "the sadness was replaced by his intense determination to continue the journey." Continuing on with what he'd learned from Jobs also has Cook continuing on with tenants that include keeping to a steady stream of just a few great things at once:
"You can only do so many things great and you should cast aside everything else. ...That's embedded in Apple." – Cook
Cook noted that he would not witness nor would he permit that bit of wisdom to leave Apple at any point. He noted that Jobs also taught him to take joy in the journey, moving towards ownership of the key underlying technologies of the products he works with, and to keep moving forward. For example, Cook notes that moving on is certainly important:
"I love museums but I don't want to live in one." – Cook
Noting that Steve told him not to ask what he would do, but instead:
"He looked at me with those intense eyes that only he had and said: just do what's right." – Cook
Stay tuned as we continue to cover this fabulous interview throughout the night!
[via AllThingsD]