Tim Cook takes the lead at iPhone event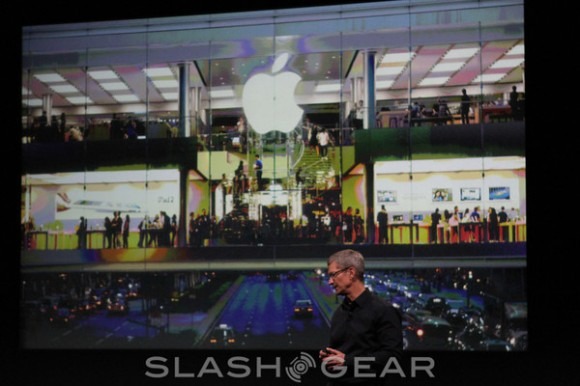 This week in Cupertino in a much smaller-than-usual venue for a press event, Apple played lovely tunes as per usual by such big bands as the Rolling Stones [Jumpin Jack Flash!] and Eric Clapton. After asking the crowd to turn their phones off and that there would be just a five minute delay after the proposed starting mark at 10 AM PST, the event began. Tim Cook stepped on stage and announced that this would be his first product launch since being named Apple CEO. He let the audience know that it was his privilege to host such an event and that after 14 years of working for Apple, he was glad to be taking his new role.
After reminding the crowd of the MacBook Air one year ago, 10 years ago for the iPod, and that today they'd be announcing additions to their mobile OS, apps, services, and hardware. Cook went on to speak calmly, yet excitedly about the several new stores they'd just launched, the Shanghai store being "absolutely gorgeous" and pulling in 100,000 visitors opening weekend. This compared to the LA location which took around a month to pull in the same number of people.
He spoke on Mac OS X Lion, how it was the biggest and best OS out there, 80 percent more copies downloaded than the previous system Snow Leopard. That's six million copies. The MacBook Pro and iMac, number one best selling notebook and desktop in America. Year over year growth for the Mac platform is 23 percent compared to PC with 4 percent. Needless to say we're off to a big start here at the Apple event, but of course we're waiting for the iPhone news most of all. Stay tuned to the live feed as well as the main news feed here on SlashGear!