Tim Cook boasts Mountain Lion numbers at iPhone 5 event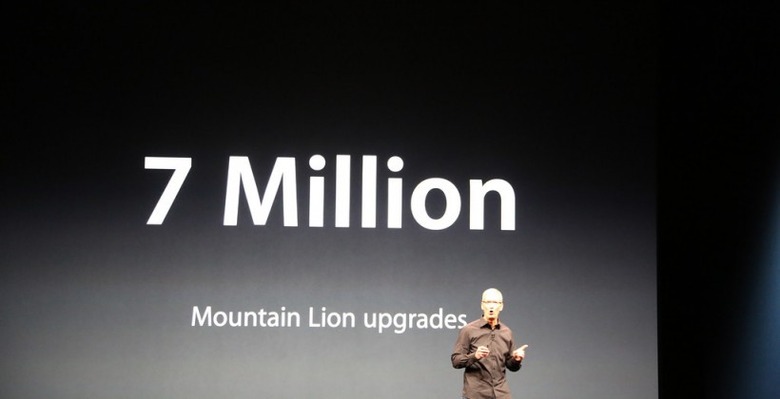 Everyone may be waiting for Apple to reveal the iPhone 5 during today's highly anticipated event, but before the reveals happen, Apple CEO Tim Cook took the stage to boast the latest numbers for the company's products. Needless to say, if Tim Cook is bragging about them in front of a packed house, you can bet they're pretty good.
Cook started with OS X Mountain Lion, saying that since its release, 7 million people have downloaded a copy. That makes Mountain Lion the fastest selling Apple release of all time, definitely something worth bragging about. The new MacBook Pro with Retina Display – which Apple says is the best Mac it has ever made – and the MacBook Air have been doing quite well too.
So well, in fact, that Apple says its notebooks are now in first place as far as US market share is concerned. To get specific, that's a 27% market share for its notebooks, and Cook says that for the past 6 years straight, Mac has grown "significantly faster" than PC has. That definitely isn't bad, and you can bet that Apple will look to keep that growth up with future Mac releases. Be sure to tune into our liveblog for up-to-the minute updates straight from Apple's press event, and have a look at our Apple portal for more in-depth coverage!