Thunderbolt cables go fiber optic (up to 100 feet long!)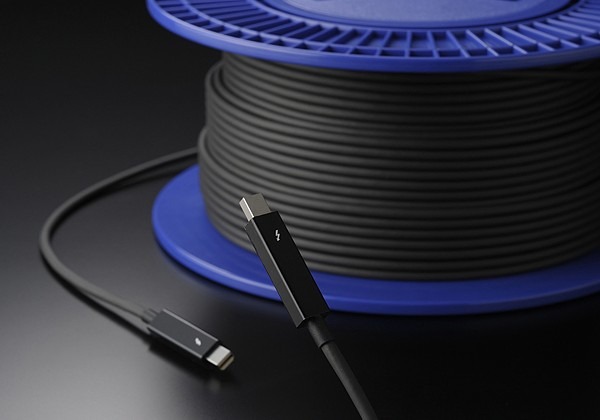 This week the folks at Sumitomo Electric Industries have announced that they're the first group in the world to receive certification from Intel to produce optical Thunderbolt cables – time to get long! This means that once they get moving with production, SEI will be able to produce cords up to 100 feet in length rather than the approximately 10 foot length they're limited to today. While today's Thunderbolt cable requires metal components that limit their length to about the size of a desk, we'll soon be rolling out across the whole room with optical builds.
The announcement from Sumitomo Electric Industries notes that they'll be able to keep the full 10 Gbps speeds that the metal cables have shown. They also mention that even if the cables they're producing are "tangled or pinched" up to 180 degrees, they'll retain their signal fully. These cables have been assured to be as thin as the current standard metal-carrying Thunderbolt cables while their heads will be ever-so-slightly modified.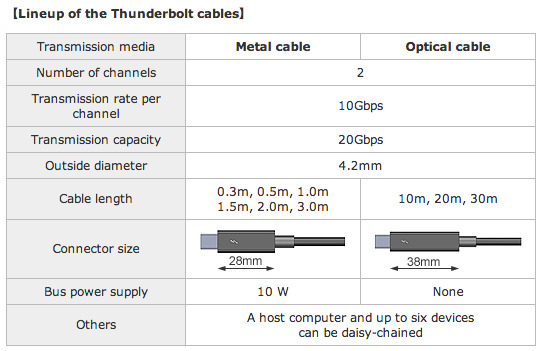 Each new Sumitomo Electric Industries optical Thunderbolt cable will have a 38mm connection head rather than the original metal cable's 28mm. This and the fact that these new optical cables will not be able to power devices such as hard drives may be a hinderance for many hoping to continue their Thunderbolt access across their home, but for those already using separate power supplies, the game is on.
The Sumitomo Electric Industries team has made it clear that all Apple computers and devices shipped with standard Thunderbolt cable compatibility on the market thus far will be working with their new cords. They've not yet announced pricing or availability, but you can bet you'll be seeing these cords before 2013 is ended (especially since they started shipping sample products back in April of 2012.)
[via Sumitomo Electric]