Thrustmaster unveils HOTAS Warthog flight controller, gamers everywhere pee pants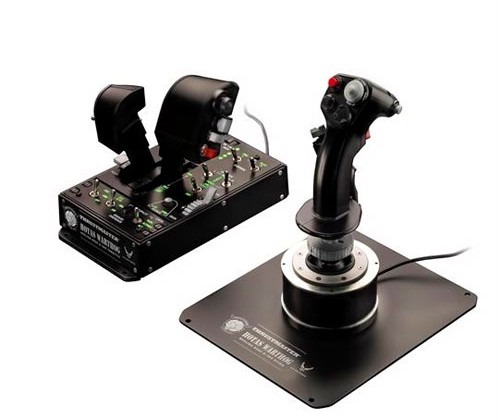 Thrustmaster has been in the gaming peripheral market for many years and has made some of the best flight simulation controllers around. The company has just released its latest flight sim controller system and has really (really, really) outdone itself this time around. The controller system includes a joystick and a separate throttle and is called the HOTAS Warthog.
It takes its name from that beastly fighter jet known as the A-10 Warthog with the multiple barrel cannon o' death the aircraft is actually built around. The joystick and throttle are exact replicas of the one that is found inside the A-10C and sport 55 programmable buttons. The dual throttle has a bunch of toggles that can be programmed for game functions. The throttle has multiple detents and uses a push pull system with magnetic resistance for accuracy and realism. The throttle itself has 17 different action buttons including a POV hat control.
The joystick has 19 buttons and its own POV hat control. The controller has magnetic sensor system for ultimate precision and has buttons with the same pressure required to activate them as the buttons in a real aircraft. The joystick handle is detachable and can be used on the lesser HOTAS Cougar controller system. The base can be removed allowing the thing to be installed in a cockpit. The only downside here is that the Warthog system sells for $499.99. It will be available this month.