Thrustmaster unveils exclusive Ferrari gamepads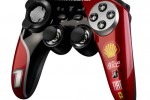 I am a big fan of exotic cars and if I could pick any car to have, I would want a Ferrari. I love the sound and style of Ferrari automobiles, but considering that the exotic Italian autos cost more than my home I will never own one. Assuming I don't hit the lottery anyway. As close as we mere mortals will likely come to a Ferrari is a Hot Wheels car or these cool new controllers from Thrustmaster.
Thrustmaster has unveiled several new game pads for the PS3 and PC with several of them being wireless that sport Ferrari racing livery designs. The wireless pads include the Ferrari Wireless Gamepad 430 Scuderia and the F1 Wireless Gamepad Ferrari F60. Both wireless controllers will ship in October for $49.99 each with a wired controller selling for $39.99.