Throwzini's Knife Block - Torture/Circus Entertainment for your kitchen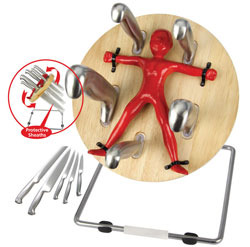 When I want to welcome my dinner guests into a warm, inviting atmosphere I think of two things, torture and circuses. The Throwzini's Knife Block combines both this ideas into one practical kitchen item.
The Throwzini Knife Block features a small red man strapped helpless to a spinning wheel of doom. Strategically placed slots will hold 5 stainless steal knives (They come included!) in place using magnets and knife sheaths.
It's not on the market yet, so hopefully all you tortured circus enthusiasts like myself can keep your anticipation in check. I hope the little man will come in different colors, red turns this lively entertainment into a shocking horrorfest.
Knife Block for Knife Sadists or Circus Fans [via Coolest Gadgets]